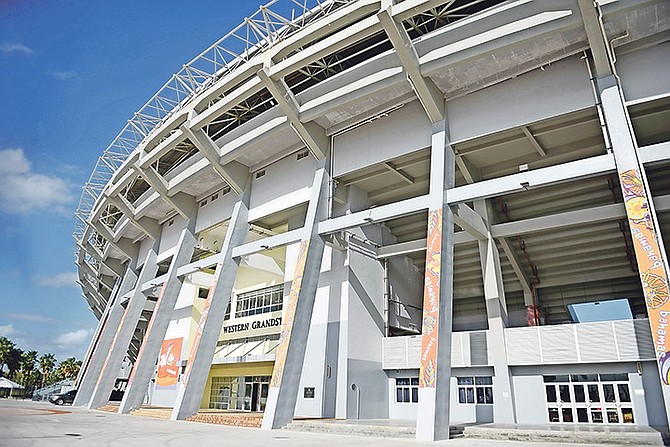 The Thomas A Robinson National Stadium.
Photo: Shawn Hanna/Tribune Staff
Stories this photo appears in:

Final practice sessions are in the books, and the return of the Bahamas Bowl is just hours away from kickoff as teams vie for the Prime Minister's Trophy.

The 27th Annual GSSSA Track and Field Championships got underway yesterday and continued its format with both junior schools and senior schools competing simultaneously.

NASSAU, Bahamas (AP) — Charlotte and Buffalo are headed to the Bahamas Bowl on December 20. The teams made the announcement yesterday, one week before most other schools find out their bowl destination. The Bahamas Bowl matchup is typically announce

Bahamian taxpayers paid $1.2m to a global sporting and entertainment giant and got nothing in return, the auditor general revealed yesterday.

NASSAU, Bahamas (AP) — FIU fumbled away the opening kickoff, gave up a touchdown 23 seconds into the game and found itself trailing by double digits by the end of the first quarter.

The Bahamas now has a total of 25 medals and is in second place in the standings after two days of competition at the 2018 Flow CARIFTA Track and Field Championships.

THE Thomas A. Robinson National Stadium is being transformed to accommodate the 26 visiting countries as they come to the Bahamas for the eighth hosting of the Carifta Games this weekend.While the cosmetic work was being done on the inside, patrons w