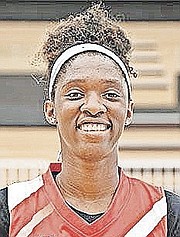 By BRENT STUBBS
Senior Sports Reporter
bstubbs@tribunemedia.net
CAN it get any better for Harbour Island native Lashann Higgs and her Club Embutidos Pajariel Bembibre in the Spanish Women's Professional Basketball League?
On Friday night, the 2020 University of Texas graduate and Club Embutidos Pajariel Bembibre suffered a 87-69 loss to the third ranked Argon Uni Girona for their third straight defeat as they dropped to 4-17 to remain in 14th place in the league standings. "It's always difficult to lose a game, but all we can do is to learn from it and move onto the next game," Higgs told The Tribune in an interview after the team's defeat.
In 23 minutes on the court, Higgs exploded for a game high 22 points on 7-of-8 shooting from the field for an 83.3 percentage, 1-of-4 from the three-point line for 25% and 5-of-6 (83.3%) from the free throw line.
She also had a rebound and an assist, while commiting four fouls. Their next best scorer was American forward Sara Rhine with 10 points and six rebounds.
American guard Chelsea Gray led Argon Uni Girona (now 19-2) with 19 points, five rebounds, two assists and two steals.
"All I can do is play as hard as I can, be a supportive teammate and continue to push myself," said Higgs of her performance. "But a leading performance is something I try not to make my primary focus, but only on how to make my teammates and myself better."
The 24-year-old 5-foot, 9-inch shooting guard continues to lead Club Embutidos Pajariel Bembibre with an improved average of 16.0 points per game. She is also logging 4.6 rebounds and 1.1 assists.
Club Embutidos Pajariel Bembibre, coached by Pepe Vazquezm, will take a break before they play their next game at home against the sixth ranked Maquin Ensino, who are 11-11, when they return to action on February 11.
During the break, Higgs said he's sure that they will be "watching film and pinpoint what needs to be done better in the next game and apply it."
With just seven more games left on the regular season schedule, Club Embutidos Pajariel Bembibre will need to get on a winning streak in order to make the playoffs.
If they don't make it, Higgs said it would still have been a "decent start to begin my professional career" and now all she has to do is "work on my craft to improve my game as much as I can."
In the meantime, Higgs said she will use the break to "rest my mind and body" as she tries to "disconnect from the game" before things pick back up for the final stretch of the season.