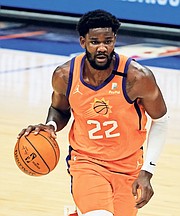 By RENALDO DORSETT
Tribune Sports Reporter
rdorsett@tribunemedia.net
DEANDRE Ayton and the Phoenix Suns nearly had a perfect ending to their six-game homestand, but squandered a 24-point second half lead in a loss to the New Jersey Nets on Tuesday night.
Ayton finished with 16 points and nine rebounds but the Nets rallied for a 128-124 win over the Suns at PHX Arena in Phoenix, Arizona.
He shot 7-9 from the field but made his single attempts from both the three-point and free throw line.
The Suns dominated early and led by double figures at the end of the first quarter, 33-22. They continued to dominate with a 22-point second quarter to take a 75-54 lead at the half. The momentum shifted in the early stages of the third quarter, and the Nets eventually outscored the Suns 74-49 in the second half. Phoenix went scoreless over the final 2:48 of the fourth quarter. James Harden made a three pointer from the top of the key with 31 seconds left to play to give the Nets their first lead of the game, 126-124. He followed with the game clinching free throws on the team's next possession.
"I thought the first four, five, six minutes of the third quarter our offence was in mud," said Suns head coach Monty Williams. "The ball movement wasn't there. The urgency just wasn't there and we gave a team life."
Ayton currently ranks No.4 in the league in rebounding at 12.2 per game. His scoring numbers are the lowest of his career at 13.2 points per game and the third year centre is taking four less shot attempts per game than he did in the 2019-20 season. The Suns travel to face the New Orleans Pelicans on February 19. Prior to the six-game winning streak, the Suns' last loss came on the road against the Pelicans (123-101) on February 4.