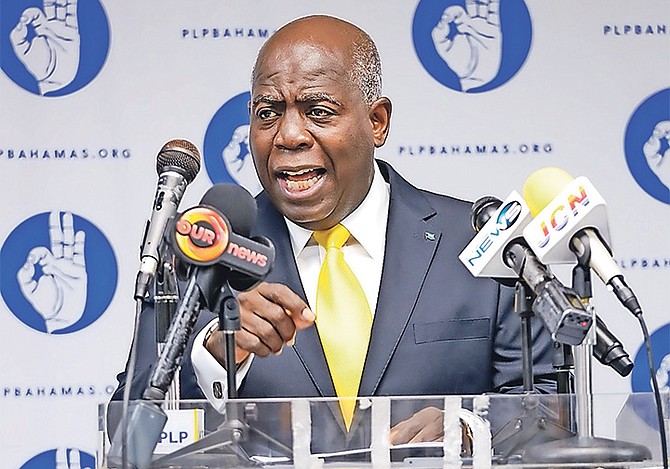 By RASHAD ROLLE
Tribune Senior Reporter
rrolle@tribunemedia.net
FNM chairman Carl Culmer last night blasted Opposition leader Brave Davis over allegations the governing party was behind "fake" anti-PLP ads on social media.
Mr Culmer hit back after Mr Davis accused the FNM of "dirty tricks" aimed at harming the PLP's chances at the next election.
Mr Davis called a "major" press conference at which he said his party had tracked down 11 social media sites which he said were created by the FNM,
Last night, Mr Culmer said the PLP's leader's claims were nonsense.
"The FNM doesn't engage in those types of politics," said Mr Culmer.
"I have refrained from those types of politics because I believe Bahamians are past that type of politics. The type of commentary we have compared with the PLP and Fred Mitchell is like night and day. I think Brave really was talking to Fred and telling him he should refrain from his brand from politics."
When you have Bahama Press, the Gallery, Bahamas Against Corruption and other groups that come with distasteful things against the FNM, I can't see how Brave or any PLP could say what he said. From day one these guys were on every media platform with the filthiest and most vile memes you could come up with. I'm disappointed and shocked that the leader of the opposition would fix his mouth to say such nonsense."
Asked if he wants the anti-PLP ads to stop, Mr Culmer said: "The party don't support that kind of thing."
Earlier in the day Mr Davis told the media the FNM was funding "toxic, deceptive" political ads that have bombarded Bahamians on social media websites like Facebook.
"Anyone with a phone or an internet connection knows what I'm talking about," he said.
"People are complaining to me every day now about the toxic, deceptive ads that seem to be unavoidable. Someone described it to me this way: 'Mr Davis, the FNM is running a garbage juice campaign.'
"And that's exactly right…I am not talking about ordinary politics. I can handle rough and tough politics. I have no problem with that. I am talking about how this FNM's dirty political tactics are more deceitful and more dangerous than anything we've seen in our country's modern history."
Mr Davis noted that concerns about misinformation circulating on Facebook and similar platforms muddied the recent American presidential election while the social media behemoth faced congressional scrutiny for how it is addressing fake news.
"It is long past time for a public conversation in this country about the role that Facebook is playing in our democracy," he said.
Mr Davis said his party has identified at least 11 fake Facebook pages that are running paid, anti-PLP ads while masquerading as being tied to the opposition party.
One is called "PLP Dirty Dozen", launched on February 16, 2021. Another, "Nygard's PLP", was launched on February 8, 2021. Another page is called "PLPs for Change".
"These groups," Mr Davis said, "are pretending to be independent organisations, falsely identifying themselves as 'community sites' or 'news and media' or even as a 'PLP history museum'.
"They are no such thing. They are not real. They have no offices. They have no staff. They cannot be contacted. They do not produce or post or advertise content except for anti-PLP and occasionally some pro-FNM content.
"They pretend to be independent, but some are running the same exact ads and overlapping graphics and language, and many click through to the same websites.
"In some of these paid ads, sent out across the country, they have an image of duct tape across my wife's mouth, and duct tape over the mouths of female PLP candidates. What is wrong with these people?
"They know if they put their name on that, it would hurt them, not help them. That's why they don't run these ads from the FNM page. It's not just on Facebook, either.
"Their lies are everywhere, in banner ads when you visit your bank website, or play an online game, or watch a YouTube video. I'm not talking about the homemade graphics and memes that supporters of both parties make and circulate.
"I'm talking about expensive, coordinated, paid advertising bombardments in the millions of dollars."