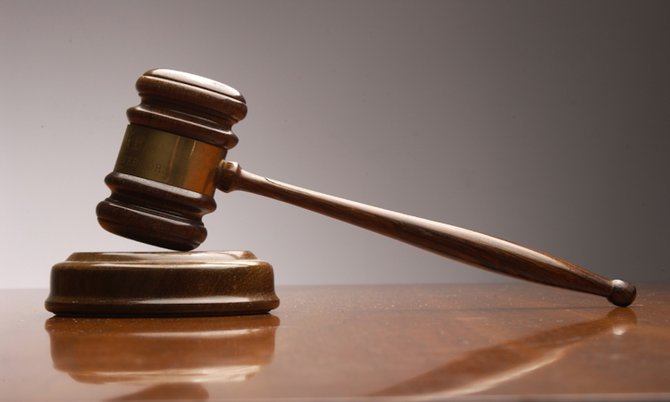 By FARRAH JOHNSON
Tribune Staff Reporter
fjohnson@tribunemedia.net
A MAGISTRATE yesterday convicted a man who was caught riding around in a car with two loaded guns.
Jason Ferguson, 39, was charged with illegal firearm and ammunition possession after officers found two unlicensed pistols in his car when they stopped his vehicle during a high speed chase on August 4, 2018.
Magistrate Samuel McKinney said during Ferguson's trial, the arresting officers testified that around 3.45 that morning, they observed a heavily tinted silver coloured vehicle being driven at an excessive speed. Police then used fog horns and sirens to get the driver to stop. However, despite their efforts the driver refused to yield and sped off after making a right turn through Wulff Road. Police eventually brought the car to a stop near Saint Barnabas Anglican Church. Officers then ordered the occupants out of the vehicle.
Magistrate McKinney said Ferguson got out from the front passenger seat. When they searched the car, police found a black .45 pistol with an extended magazine containing 17 rounds of ammunition and a .45 Glock pistol with 12 bullets sitting on the console between the driver and passenger seats in plain view. Both Ferguson and the driver of the vehicle were subsequently arrested.
The court was told that Ferguson elected not to give evidence during the court proceedings. However, his co-accused, who was driving the car on the morning in question, testified that the car belonged to Ferguson. He claimed the accused got into a fight with somebody at Charms strip club and asked him to drop him home. The driver said when he did, Ferguson went into his residence then returned back to his car with the guns. He claimed when he asked Ferguson what he was doing, the accused told him to take him back to the strip club. When he tried to dissuade Ferguson, the accused shouted at him and ordered him to drive. The driver said when he sped off, the police started to chase them. He claimed the accused told him to go faster, but he told him he "had to stop."
In sentencing Ferguson, Magistrate McKinney said the court was not convinced that the accused had no knowledge of the illegal firearms. He said it was "inconceivable" that Ferguson could deny seeing the two large weapons as he was seated "less than six inches" from where they were resting, openly displayed. As a result, he found Ferguson guilty of the offences and deferred his sentence to Friday.
Ferguson's bail was revoked and he was remanded into custody until that time.
His co-accused is set to appear before Magistrate McKinney on March 5 for his sentence hearing.