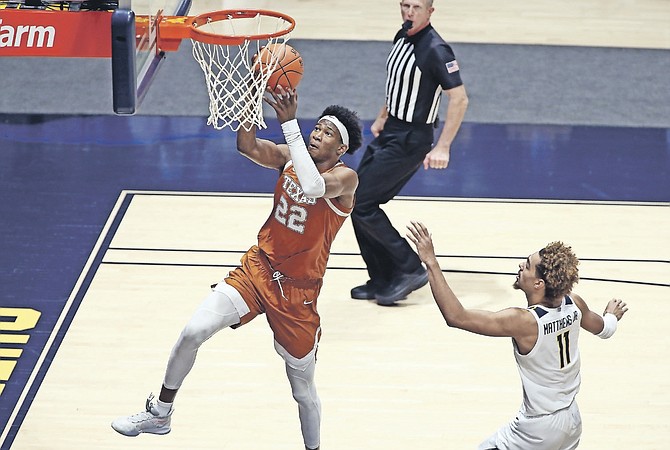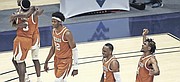 By RENALDO DORSETT
Tribune Sports Reporter
rdorsett@tribunemedia.net
KAI Jones and the Texas Longhorns scored another win over a ranked opponent to highlight activity from Bahamian players in NCAA Division I basketball over the weekend.
With the help of some late-game heroics from Andrew Jones and his go ahead three pointer with 1.8 seconds left to play, the nationally ranked No.4 Longhorns defeated the No.14 West Virginia Mountaineers 72-70 on Saturday afternoon at the WVU Coliseum in Morgantown, West Virginia.
Jones finished with 10 points and four rebounds. He reached double figures in scoring for the fifth time this year (11 games) and seventh time in his career. He also tied his career high with two steals.
Texas is now 10-1 overall and 4-0 in Big 12 Conference play, their best conference start since the 2010-11 season.
It is also their best 11 game start since the 2014- 15 season.
Jones is averaging nine points and five rebounds per game this season.
Texas returns to action when it hosts No. 18 Texas Tech 9pm local time on Wednesday, January 13, broadcast live on ESPN2.
Yolett McPhee-McCuin and her Ole Miss Rebels fell just short of their first win this season against a nationally ranked opponent, despite a season best game from Valerie Nesbitt.
In her first start of the season, Nebitt finished with 18 points, four rebounds and three assists, but the Rebels could not erase a 14-point second half deficit in a 60-56 loss to the No.14 Mississippi State Bulldogs at Humphrey Coliseum in Starkville, Mississippi on Sunday.
"That is what a rivalry game should look like," McPhee-McCuin said. "This isn't a moral victory, but we did come on the road and compete against the No. 14 team in the country. A lot of things just didn't go our way."
Ole Miss fell to 7-2, 1-2 in Southeastern Conference play.
Ole Miss limited the Bulldogs to just 10 points in the final quarter during their final run, which included several key plays from Nesbitt down the stretch.
Nesbitt's layup made it a two-point game at 58-56 with 1:00 even to play. With 25.3 seconds left, she came up with a steal to give Ole Miss one final opportunity to tie the game. That rally fell just short when the Rebels' Donetta Johnson (who scored a team high 25) missed the potential game tying jumper.
Prior to the final possession, McPhee-McCuin's message in the huddle to her team was to play freely.
"I just looked at them in the huddle and I said y'all, please do not quit on me right now," McPhee- McCuin said.
"This is a moment of growth. I promise you we're gonna have a chance to win this game. Let's just tie it up and put the pressure solely on them. If we lose, it's on me, so just play freely, and they just played freely."
Ole Miss looks to even their SEC record Thursday, January 14 when they host the Missouri Tigers at 7pm local time.
Garvin Clarke had the best game of his freshman season thus far in limited minutes for the Akron Zips.
Clarke finished with a career high nine points and two steals in just seven minutes of the Zips' 71-59 loss to Eastern Michigan on Saturday.
It was Clarke's first game with multiple field goals made this season.
Ahmard Harvey had just two points as his Coastal Carolina Chanticleers improved to 10-2 with an 83-69 win over South Alabama on Saturday.
Sammy Hunter had three points and two rebounds in his Ole Miss Rebels 75-61 loss to the LSU Tigers Saturday.