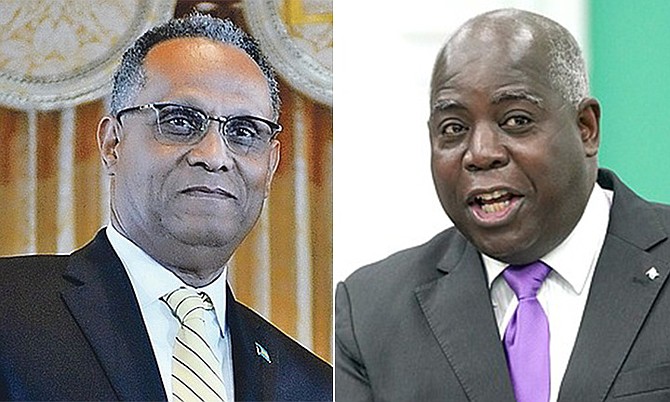 By RASHAD ROLLE
Tribune Senior Reporter
rrolle@tribunemedia.net
DOCTOR Michael Darville, the co-chair of the Progressive Liberal Party's COVID-19 task force, says the revelation that 46 percent of travellers to The Bahamas have not taken the COVID-19 antigen test after five days in the country is alarming and should "greatly concern" Bahamians.
"It was a shock to me and shows even though these protocols are in place, the government is not ready for prime-time," the senator said yesterday. "It's easy to talk about these things but the truth of the matter revolves around how these policies function on the ground."
PLP leader Philip "Brave" Davis also weighed in on the issue last night, saying in a statement to The Tribune that the government needed to fix its lax enforcement of the testing regime.
The five-day antigen test for travellers is one rule officials implemented last year to prevent a COVID-19 outbreak.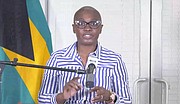 However, during a Ministry of Health press conference on Friday, Dr Cherita Moxey, a senior house officer, admitted that about 21,000 people required to take the antigen test have not done so. The government previously said that failure to take the antigen test on day five could result in a $1,000 fine or one-month prison sentence. However it is unclear if any traveller has been given a penalty for such a breach.
"There is a bucket of individuals who at the fifth day tested negative and that is roughly 26,000 individuals who tested negative," she said. "Now we get to that bucket of individuals who were not tested. That number when we just look at it in an absolute sense seems like a lot, it's a little bit over 43,000. However, we have to look at the data in terms of who was eligible to have the five-day rapid antigen test done and when we look at those who were eligible, i.e. those who have been in The Bahamas five days or longer, we see that there is about 21,000 or about 46 percent of individuals who were supposed to take the antigen tests but did not take it so there is some concern there. We certainly need to ensure that people who are supposed to take that rapid antigen test actually do take it."
Dr Darville, a former Minister of Grand Bahama, said the revelation "raises a red flag" as the country braces for potentially more infectious variants of COVID-19.

"That's an area that needs to be sorted out immediately," he said when contacted. "They must put the necessary resources to find the manpower to ensure that that is corrected. In view of the fact that we have highly contagious strains popping up, we have to do a better job to ensure that visitors as well as residents arriving who are supposed to do follow up testing get those testing done. If we are going to open up and stay open, it is crucial and if we don't, we will miss cases. There could be severe clusters of COVID-19 popping up."
For his part, Mr Davis said officials should be more vigilant at this time, not less.
"The government is playing with fire but it is the Bahamian people who will get burned," Mr Davis said. "With new, more transmissible strains of COVID now circulating in the US and elsewhere, it's time to be more vigilant, not less. The government needs to move quickly to fix its lax enforcement of the testing requirement. This is not a game.
"The Prime Minister is speaking to the nation on Tuesday night. He should provide an accounting of what went wrong and how he intends to fix the errors.
"The government's broken, mistake-filled reopening policies in July led to more than 7,000 new cases in The Bahamas, and the lockdowns and curfews that followed crushed local businesses. We can't afford this government's mistakes. We can't afford a third wave. People are already suffering too much," the PLP leader added.
The PLP's warning comes as the country appears to have arrested control of the second COVID-19 wave. Over the weekend, only three people remained hospitalised with the virus, the lowest since mid-July.
Nonetheless, health officials believe it is a matter of when, not if, the more infectious COVID-19 variants that originated in the United Kingdom and South Africa impact the country.
Chief Medical Officer Dr Pearl McMillan said on Friday that officials will choose indicators that will determine when positive COVID-19 samples will be sent to foreign labs to undergo the genome sequencing that identifies various COVID-19 strains.
Dr Darville said: "I see the (COVID-19 ambassador) cars driving up and down and I see them throughout New Providence with their green lights to indicate that yes we do have these COVID ambassadors. It begs the question, how could 41 percent of visitors who are supposed to be tested on day five after coming in not be tested? Where did these individuals go? And who is responsible for ensuring this is to be done? Is it the COVID police or the contact tracers assigned to this mission?
"Let's say there were two to three travelers who came in and were positive by day five but did not get tested and they are in and about the hotels interacting with people. That could possibly cause community spread.
"Tourism numbers are down by 95 percent and we missed 40 percent of people coming in? This shows we have to do a better job. You can't sit back and rely on the individuals to show up and say we came in, it's our responsibility to make sure we have the digital capability to monitor things like this.
"We found out the statistics and now it's the responsibility of the government to fix it and do it immediately so we have a fighting chance to ensure our tourism sector stays open."
During Friday's press conference, Dr McMillan said 70,000 antigen tests have been performed for travel purposes since November 1. Of these, there have been 113 positive COVID-19 cases, she said, including 58.4 percent who were tourists and 34.5 percent who were returning Bahamians.
She could not say how many of the positive cases had their result confirmed with a PCR test as required by ministry protocols. She also could not say what percentage of COVID-19 cases were contracts of positive travel cases.
"That is an area that we recognise is a gap and we are seeking to work closer as Dr Moxey alluded to, we have to work a little closer with our tourism partners to ensure that we are actually getting these persons tested and that we are actually getting a little more access to the data to be able to give the true numbers," she said. "But we have a robust partnership so we anticipate that that will occur."
Travellers must have a negative COVID-19 PCR test no more than five days old to enter the country and apply for a travel health visa.