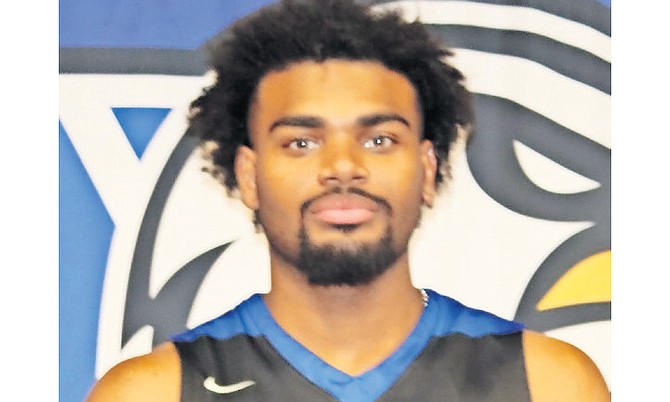 By BRENT STUBBS
Senior Sports Reporter
bstubbs@tribunemedia.net
Grand Bahamian Shackeel Butters of Williams Baptist in Walnut Ridge, Arkansas, has been named the American Midwest Conference (AMC) Men's Basketball Player of the Week.
The former St George's Jaguars forward led the Eagles to a pair of victories January 4-10.
The Eagles were able to snap a four-game losing streak to push their record to 4-4. Their two victories last week were their first two games played this season in the AMC.
Their first victory came on Thursday in a close 76-67 nipping of the William Woods Owls as Butters came through with 16 points and nine rebounds. He came back on Saturday and produced his third double-double of the season with 20 points and 10 rebounds in their 78-64 triumph over Hannibal-LaGrange Trojans.
For the week, Butters shot 44.8 percent, shooting 13-for-29 from the field and 80 percent or 8-for- 10 from the free throw line.
The Eagles' pair of victories kicked off the new year on the right track after they closed out 2020 with a 76-67 loss to the Philander Smith Panthers on December 12 as Butters netted 10 points with 11 rebounds, two steals and an assist with four personal fouls.
In eight games so far this year, Butters has played a total of 1,540 minutes, an average of 29.2 minutes. He has scored 611 points for an average of 11.5 points per game as he connected on 253-for- 436 or 58 percent from the field, 1-for-6 or 16.7 percent from the three-point arc and 104-for-167 or 62.3 percent from the free throw line.
The 6-foot, 6-inch forward has also pulled down 52 rebounds or 8.7 percent, blocked 31 shots, stole 38 balls, dished out 39 assists and turned the ball over 73 times. He has committed 123 personal fouls, picked up a technical foul and has been ejected twice.
In their last game against the Trojans, Butters played 31 minutes, connecting on 7-for-13 from the field, 1-for-2 from the three-point arc and 5-for-6 from the free throw line. Nine of his 10 rebounds came from the defensive end.
The Eagles opened the game with a 12-0 spurt and continued their high energy play to take a 19-point margin at the half. The Trojans managed to cut the deficit to 41-36 in the second half, but the Eagles' defence stampeded any further comeback as they coasted down the stretch.
In his freshman year, Butters played in 20 games, averaging 3.15 points and 2.15 rebounds per game. He shot 60 percent from the field and 75 percent from the free throw line.
In his sophomore year, Butters received honourable mention All- American and made the second team All-AMC.
He led the NAIA with 358 total rebounds, which was a Williams school record. He was named AMC Player of the Week twice and finished with 15 double-doubles (points-rebounds). While he started and played in all 30 games the Eagles played, Butters averaged 11.9 rebounds and 11.7 points per game as he shot 60 percent from the field.
Last year as his junior season got cut short because of the coronavirus pandemic, Butters played in all 14 games, averaging 27.7 minutes as he went 70-for-126 (55.6 percent) from the field and was 34-for-48 (78.0 percent) from the charity stripe.
As he scored 174 points or an average of 12.4 points per game, Butters also had a total of 91 rebounds, 11 steals, 14 assists with 20 turnovers and 22 personal fouls.
Butters and the Eagles were scheduled to host Missouri Baptist in the Southerland-Mabee Center last night, but no results were available up to press time. Their next game is set for Friday against Harris-Stowe State University.
Their regular season will wrap up on February 20th.