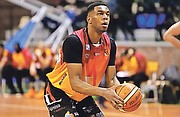 By RENALDO DORSETT
Tribune Sports Reporter
rdorsett@tribunemedia.net
FOLLOWING a nearly three month hiatus, Willis Mackey Jr and his JSA Bordeaux Métropole Basket of France's Nationale Masculine 1 (NM1) League returned to the court to continue their season.
Mackey finished with 20 points in just 20 minutes but Bordeaux fell to the league's top seed, Union Tours Metropole, 83-70.
He shot 8-13 from the field, including 4-6 from three-point range.
"I played a pretty good game but I was just in foul trouble. You have to watch the film to see what the refs see and moving forward, I just have to be better, get in the gym, work and improve. Defensively is where I really need to improve," Mackey said on his YouTube Vlog. "I wanted to help my team a little more but I wasn't good defensively so I was getting a lot of fouls, I was late to my spots and it was my fault, I'm taking responsibility for that. Moving forward we just have to get better as a team."
Bordeaux fell to 2-5 while Tours improved to 5-1. In his first season with the club, Mackey is third on the team in scoring at 10.9 points per game and second in rebounding at 4.9 per game.
Prior to this week's return to play, Bordeaux's last game in league play was on October 27.
"They're a pretty good team, the number one ranked team in our league right now and it showed," he said. "We didn't really come out with enough punch I think and it showed. We won the second half but it wasn't really enough to overcome everything that happened in the first half."
The NM1 League is the third-tier division of club basketball in the country. The two top teams from each season of the competition are promoted to the LNB Pro B, which is the French second division.
Mackey recently received league wide recognition for a standout season last year in Salamanca, Spain with Aquisima Carbajosa of the Liga Española de Baloncesto Aficionado, commonly known as Liga EBA.
He was named the EBA's Eurobasket Player of the Year, Import Player of the Year, Forward of the Year and was an All-EBA 1st Team selection. He led the club with 16.5 points and 7.8 rebounds per game.
Mackey last appeared as a member of the senior men's national team in November at the second window of the FIBA AmeriCup 2022 Qualifiers in Indianapolis, Indiana.
Mackey played in the second game of the window, a 91-85 loss to Puerto Rico at the Indiana Convention Centre. He posted 18 points and seven rebounds.
He entered pro basketball following a senior season for the Northwestern Ohio Racers when he averaged 16.6 points and 8.9 rebounds per game as a senior.