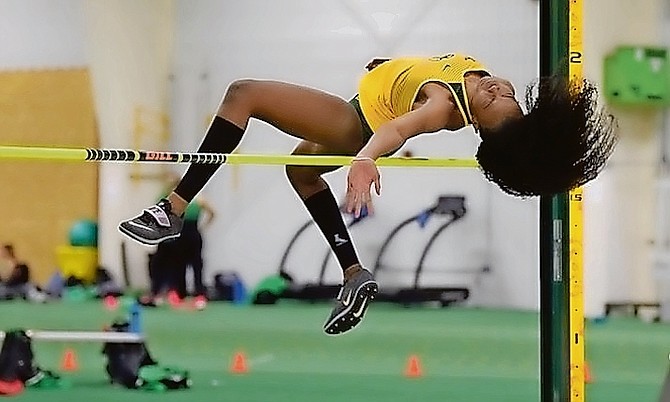 By BRENT STUBBS
Senior Sports Reporter
bstubbs@tribunemedia.net
It was a great start to the collegiate indoor season for jumper Daejha Moss and quarter-miler Megan Moss in two separate meets on Saturday.
North Dakota State junior Daejha Moss, returning to school after spending the Christmas holiday at home training with her Leap of Faith coach James Rolle, produced a pair of victories in the high and long jumps at the Bison Cup Classic in Fargo, North Dakota.
University of Kentucky's sophomore Megan Moss, on the other hand, got second in the 400 metres and led her Wildcats' 4 x 400m relay team to a triumphant finish at the Rod McCravy-Jim Green Invitational in Lexington, Kentucky.
Daejha Moss' performance in the high jump was of greater significance as she registered one of the top high jump marks in school history, clearing a personal-best of 5-feet, 10-inches or 1.78m. That tied her for the third-best in NDSU indoor history and come within one-half inch of the school record.
"I am very pleased with my performance today," said Moss in an interview with The Tribune.
"Five-feet, 10-inches was on my radar for a long time and it feels so good to have finally checked that off the list. I now have my eyes set on six feet."
The Queen's College graduate beat out team-mate Bailey Cowling, who also cleared a personal-best 5-08.75 (1.75m) for second place and is now tied for seventh-best all-time at NDSU.
"I definitely expected my team-mate Bailey Cowling to do well because she looked so good in training," Moss said. "Also, I didn't want to jinx it, but I had a strong feeling that I would PR in this meet. I've made important changes and that really showed today."
During the meet, Moss showed her versatility by pulling off another triumph in the the triple jump with a mark of 37-04 (11.38m). She said it was just a tip of the iceberg for the season.
"I owe a lot of my success to my coach James Rolle. He truly is the high jump blueprint. He knows his stuff," Moss said of her Leap of Faith coach. "Something always clicks when I train at home over breaks. "Leaving him for college was a big change, but I've been blessed with great college coaches. My coaches have a great relationship with each other and I'm really grateful for that."
While she still has some jumping to do in order to attain the qualifying standard of 1.87m (6-1 1/2) for the postponed 2020 Olympic Games in July in Tokyo, Japan, Moss said she's aiming for some other lofty goals. "I want to make it to the NCAA Nationals and I really want the Bahamian national record," said Moss of the mark of 1.82m (5-11 1/2) that was set by Kenya Culmer on May 12, 2012 at the State Farm MVC Championships in Wichita, Kansas.
"The national record has been a sitting duck for years now and I want it badly. So I'm going to work for it and with God's help and my dedication, I'm going to make it."
Moss said she would also like to jump at least 6.20m (20-4 1/4) in the long jump and 12m (39-4 1/2) in the triple jump.
Moss settles for second in Kentucky
Meanwhile in Lexington, Kentucky, quarter-miler Megan Moss had to settle for second place in the women's 400 metres on Saturday at the Rod McCravy-Jim Green Invitational in the Nutter Field House. Moss, a graduate of St Augustine's College, clocked 53.65 seconds to trail team-mate Alexis Holmes, who sped to victory in 53.21. "The meet was good. I definitely thought I could have executed a bit better, but overall I'm pleased with the results," Moss told The Tribune. "I feel like my performance was great. There's definitely some things I need to work on. However, that is my fastest opener ever so I'm please nonetheless."
Moss, The Tribune's 2020 Junior Female Athlete of the Year, also ran the pop off leg for the Wildcats women's 4 x 400m relay team that won in 3:35.52 with Holmes on the anchor leg. "This sets up the remainder of the season really well. We're starting off at a faster point than I ever had and I'm excited about that," said the 18-year-old Moss.
As she looks ahead, she said there are some attainable goals in her reach.
"My goals moving forward is to definitely execute my race much better than I did and work on the mistakes to make my overall race better and also to better my time each time I compete so that I am in the qualifying for Nationals and I can improve from there," she summed up.
Bahamians at 2021 Simmons-Harvey Big Ten Invitational
At the U-M Indoor Track in Ann Arbor, Michigan, Ohio State's sophomore Adrian Curry came in fourth in the men's 60m in 6.87, while senior Tavonte Mott was eight in 7.10.
In the preliminaries, the pair went head-to-head in heat two with getting second with the fourth fastest qualifying time of 6.88 and Mott was fourth in the same heat in 7.04 for the eighth spot.
Curry also contested the 200m where he was sixth in 21.97, while Mott made it to the final of the 60m hurdles, but he didn't complete the race. He was fourth in his heat in 8.34 for the eighth qualifying spot.
Curry closed out the meet by running the anchor leg on the third Ohio State's 4 x 400m relay team that finished sixth in 3:27.46.
Jyles Etienne, in his senior year at Indiana University, competed in the men's high jump, but he failed to clear a height.