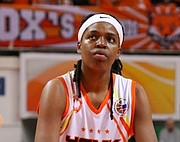 By RENALDO DORSETT
Tribune Sports Reporter
rdorsett@tribunemedia.net
JONQUEL Jones and her UMMC Ekaterinburg Foxes advanced to the FIBA EuroLeague Quarterfinals with another dominant performance as group play resumed this week.
Jones needed just 18 minutes to finish with eight points, seven rebounds and two steals in the Foxes' 74-58 win over Beretta Famila Schio in Schio, Italy. They improved to 4-0 in Group C and became the second club to clinch a spot in the Quarterfinals.
UMMC (Russia) continues in the group stage and looks to extend their unbeaten streak with matchups against Spar Girona (Spain) on January 21 and TTT Riga (Latvia) on January 22.
Through four EuroLeague games thus far, Jones is averaging 17 points and 8.8 rebounds per game. She is also shooting 78 percent from the field and a league leading 73 percent (8-11) on three-point field goals.
Jones opened EuroLeague play with 20 points, 6 rebounds on 8-10 shooting from the field in an 83-61 win over Beretta Familia Schio. She followed with a double double - 21 points and 13 rebounds on 8-12 shooting from the field and 5-7 on three-point attempts in a 94-67 win over Spar Girona.
Jones completed stage one with 19 points on 8-9 shooting (2-2 from three), nine rebounds and three blocked shots.
The Quarterfinals will take place in March and the season will conclude with the Final Four in April.
The FIBA EuroLeague continues its new modified format with a shorter competition system of four groups of four clubs playing in their respective hubs during the regular season. The top two clubs from each regular season group advance. The quarterfinals will be played over two legs in single venue hubs and the winners will advance to the Final Four.
Last season, Jones' first with the club, Ekaterinburg captured their second consecutive and fifth EuroLeague title with a 91-67 win over Dynamo Kursk in Sopron, Hungary. She appeared in eight games averaging 19.6 points and 7.6 rebounds per game.
UMMC has won five Euroleague titles (2003, 2013, 2016, 2018 and 2019) and are perennial Final Four competitors.
In the Russian Premier League, the Foxes are the only undefeated team in the league at 12-0. Nine games remain in the regular season which concludes March 11.