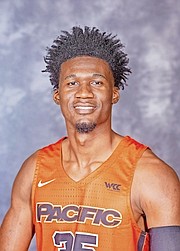 By RENALDO DORSETT
Tribune Sports Reporter
rdorsett@tribunemedia.net
IN Spain, Shaquillo Fritz has a new opportunity with a new club in Spain's Liga Espanola de Baloncesto (LEB Silver).
Fritz finished with four points, eight rebounds and three blocked shots in his debut for Agricola Villarrobledo CBV in their 90-62 win over Tarragona.
Villarrobledo moved into eighth place in the East standings with the win at 5-7. They will face Fritz' former team, Hero Jairis, in the next round.
He opened his rookie season with a double double - 14 points, 11 rebounds, but eventually fell out of the rotation and played sparingly as the season continued.
Fritz contributed 4.3 points and 3.3 rebounds in an average of 15 minutes per game. The LEB Silver is the second division in the country.
Travis Munnings, Shaquille Cleare and UD Oliveirense are on a three game winning streak in Portugal's Liga Portuguesa de Basquetebol (LPB).
Munnings came off the bench and finished with nine points in an 87-59 win over Maia Basket. He also added three steals and three rebounds in just 16 minutes. They improved to 11-5 and are ranked No.6 in the standings.
The current streak began on January 15 with a 97-77 win over Ovarense. Munnings finished with a season high 16 rebounds, seven points, seven assists and three steals. Cleare finished with eight points, three rebounds and three assists. They followed with a 73-62 win over Galitos-Barrerio. Munnings finished with seven points and nine rebounds while Cleare finished with 10 points and five rebounds.