By BRENT STUBBS
Senior Sports Reporter
bstubbs@tribunemedia.net
Lorin Sawyer finally won his first Bahamas Cycling Federation double crown, taking the 47th National Cycling Championships' male time trials and road race titles to Spanish Wells, Eleuthera.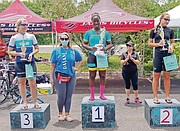 Sawyer completed the sweep of the two crowns over the weekend at the Clifton Heritage Park where he was joined by repeat female time trial champion Marla Albury and new mom Antioniece 'Lilly' Simmons, who returned to capture the female road race.
The times for men and women's road races on Sunday were not available.
"It was one of the hardest ones I've competed in for sure," said Sawyer of winning his first road race title. "It was a struggle right to the end."
Although he's known for winning the time trials since he started in 2018, adding another title on Saturday, the 37-year-old Albury said there was no greater feeling than pulling off the road race on Sunday for the rare double feat.
"I have to give God the credit because on that last lap, I didn't know if I would pull it off," he said. "I just said 'please Lord, just give me the strength for one more l' and he did."
After Sawyer got a break away on the final stage of the last lap for the win, Chris Curry out-sprinted Felix Neely for second place.
The 18-year-old Neely, who won both the senior II time trials and road race, said it was very intense, but he wanted to thank the Colombian Cycling Association for helping him in his training a few years ago.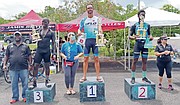 "This was a great experience because in August, I have the Caribbean Cycling Championships where it was recommended that I compete in both juniors and seniors," he said. "I hope to get first place in both divisions."
After such a performance here this weekend, Neely said he's looking forward to the challenge ahead of him."
Simmons, whose daughter Kenece is just six months old, said she felt she had a good race on Sunday. "I haven't been training like that, so I was glad that I went out there and gave it my best shot."
Simmons admitted that it was good to be back because now she has a lot more women to compete against.
Windsor High School's 10th grader Cami Roach, third overall in the time trials on Saturday, came back on Sunday and finished second behind Simmons in the road race. "It was good. I did very well," said Roach, 15. "I did very well for the first four laps, but the last lap was really hard. I was in the front sprinting group, but I just got out-sprinted at the end."
Marla Albury, the wife of former time trial and road race champion Chad Albury, successfully defended her time trials title she won in 2019, but had to settle for third in the road race. "I felt like I did good, considering that I didn't have the opportunity to train because my mom just had surgery and I was dealing with her," said the 47-year-old Albury.
"I fought tooth and nail to get down here. I felt I did good for not having a chance to ride for the past two weeks. I did pretty good. I feel good. We had a great day today. We had a lot of women out here."
Barron Musgrove Jr, the son of New Providence Cycling Association president Barron 'Turbo' Musgrove Sr, captured the junior boys' title.
"It was good because I trained hard because I wanted to make my family proud," he said. "My main competitor, Jason (Cates) is fast, but I had to beat him today."
Erin Pritchard won the junior girls' 12-14 time trials on Saturday and, on Sunday, she pretty much competed with the boys in the road race for her double win over Angeleah Knowles.
"It was pretty good. It was pretty normal for the first four laps, but when we got to the final lap, it was pretty much a sprint against the boys," said 13-year-old Pritchard, who will be entering grade nine at St Andrew's School. "I'm pretty happy."
Kenton Roker, the elite masters winners, felt that although he won his category, he could have performed much better, if he had not cramped up after 50 miles.
"I didn't have enough fluids and I got cramps, but I just rode it out," he said. "I was able to finish the race because I went out hard and I gotta separate myself from everybody in my category."
Saturday's Time Trials results
Pee Wee boys 6-8 years - Fraser Menzies - 26.07; Anthony Knowles 26.42; Lyall Menzies 28.23.
Cadet girls 9-11 years - Taylor Knowles 23.51.
Cadet boys 9-11 years - Laugulan Menzies 18.25; Sibby Fynn Potter - 18.51; Jayden Smith 19.15; Callum Pritchard 19.42; Mirko Gervasini 20.38.
Junior boys - Malcolm Menzies 29.24; Auden Bain 31.04; Launny Duncombe 31.37.
Senior One - Lorin Sawyer 37.34; Lorenzo Carter 40.20; Kevin Daley 50.46.
Senior II - Felix Neely 39.52; Edward Bethel 45.47.
Masters Male - Kenton Roker 43.59; Leebert Gibbs - 44.04; Wayne Price 46.41.
Novice male - Theodore Williams 29.24.
Open women - Mary Gibbs 50.42; Marla Albury 50.53; Kami Roach 51.09; Ilaria Gervasini 52.37; Suzy Eneas 53.12.
Junior girls - Erin Pritchard 33.09; Angeleah Knowles 41.19.
Sunday's road race
Junior boys 15-17 years - Barron Musgrove 1:07.20; Jason Cates 1:07.22.
Junior boys 12-14 years - Ellie Gibson 107.14; Auden Bain 1:07.15; Malcolm Menzies 1:07.16; Launy Duncombe 1:07.16; Enea Gervasini 1:07.19.
Junior girls 12-14 years - Erin Pritchard 1:07.20; Angeleah Knowles 1:25.09.
Cadet boys 9-11 years - Sibby Fynn Potter 34.01; Jayson Smith 34.02; Callum Pritchard 34.03.
Cadet girls 9-11 - Taylor Knowles 51.13.
Pee Wee boys 6-8 - Fraser Menzies 23.54; Lyall Menzies 26.54; Anthony Knowles 28.59.
Senior One male - Lorin Sawyer; Chris Curry; Kevin Daley; Lorenzo Carter; John Cox; Jay Major.
Senior II male - Felix Neely; Rowston Jones.
Senior III male - Jared Johnson; Arie Smith; Cameron Roach.
Elite masters male - Kenton Roker; Leebert Gibbs.
Masters male - Wayne Price; Timothy Hauber; Andrew Gates; Curtis Fowler.
Open women - Antioniece Simmons; Kami Roach; Marla Albury; Mary Gibbs; Lynn Prichard.