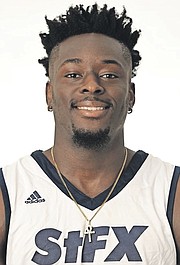 By RENALDO DORSETT
Tribune Sports Reporter
rdorsett@tribunemedia.net
AZARO Roker's first step on his professional basketball journey will begin in Spain.
Roker signed with Acunsa Gipuzkoa Basket Club, in Spain's LEB Gold League, the second tiered league in the country.
The 6'7" forward out of St Francis Xavier University in Nova Scotia, Canada, said his story of perseverance is one that will continue as he reached another odds defying milestone.
"I am extremely proud to announce that I will be taking my talents to the pros," Roker said. "Not only did I manage to land an incredible situation coming out of a Canadian university, but I continued to defy the odds. (Leaving university and making the jump to a top Spain LEB 'Gold' league). I was told that it was going to be tough landing good opportunities coming out of Canadian university on top of not playing the previous basketball season. There were a number of other people in (pros, G-League, and college) that could've been placed in this position ahead of me, but I was chosen instead. I managed to defy the odds and make what seemed to be impossible possible."
In May, Roker signed with the Helping Ballers Agency out of Ourense, Spain following a year on the court lost to the COVID-19 pandemic.
In March, Roker returned to the court in his final game with the X-Men. He finished with 11 points and 15 rebounds to lead the X-Men to a 99-76 win over the Acadia Axemen in the inaugural 'Coach K Challenge' exhibition in Antigonish, Nova Scotia, Canada.
He returned to the X-Men for his final year of eligibility after rising to the status as one of the top players in the Atlantic University Sport (AUS) in 2019. He earned a series of postseason accolades including a U Sports All-Canadian Second Team selection, an AUS conference tournament All-Star nod and AUS First Team selection. He was one of only three players in the league to average a double double. He led the conference in rebounding at 13.2 per game and was second in scoring at 17.2 points per game.
"I believe that this could only be possible with God's grace and favour he's placed on my life. Growing up as a kid in Nassau, Bahamas I dreamed of this day and now I've made this dream a reality through hard work and dedication. This journey has continuously shown me that I am a true testament to will power and affirmation," Roker said.
"Believe me, this is just the first of many good things to come. You can truly do anything you put your mind to. Stop watching and following others, be the first one and your family to create generational wealth and be successful. If I can do it then you can too."
Roker was a mainstay of the X-Men lineup ever since he matriculated from the Anatol Rodgers High Timberwolves.
In his first season with the X-Men, Roker averaged just 2.2 points and 2.3 rebounds per game in 18 appearances. In year two, he got three starts in 19 appearances and averaged 4.6 and 3.5 rebounds per game. His numbers improved in year three, when he averaged 10 points and was a conference leader with 10 rebounds and two blocked shots per game.