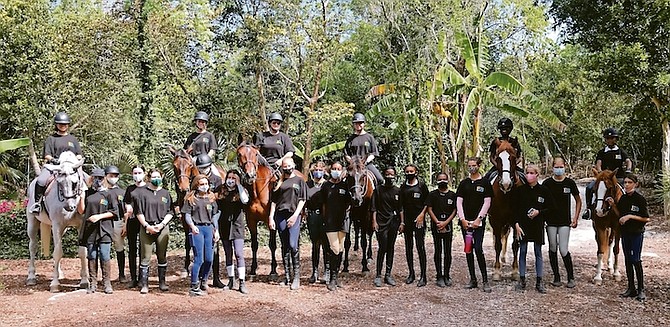 TWENTY young riders mounted up and hit the trails with enthusiasm this past Sunday as a part of the "Ride For Reine" Trail-a-thon to raise funds on behalf of Reine Pagliaro.
Pagliaro, 17, is hoping to represent The Bahamas at the FEI Young Rider Endurance World Championships in Ermelo, Netherlands, September 3-10, 2021. The "Ride For Reine" event was a collaborative effort amongst all the member riding school clubs of Equestrian Bahamas - Camperdown Equestrian Centre, Mariposa Stables, and Moonstone Stables.
"The Ride for Reine was a great demonstration of the solidarity of our equestrian community," said Cathy Ramsingh-Pierre, president of EB.
"The riding schools donated the use of horses for the ride, the trainers gave of their time to supervise and organise the event, and Moonstone Stable provided a beautiful venue for riding.
"And of course, the riders themselves have been out actively soliciting donations which the Federation will give on their behalf to Reine. We are grateful for everyone's support."
Riders enjoyed chatting and "catching up" while riding through the trails. Many have not ridden together in months since all equestrian competition was suspended for the 2020-2021 season.
In a tribute to Pagliaro and her horse Beautiful Knightmare (nicknamed "Beau"), everyone wore special t-shirts that said "EB loves ReineBeau".
In 2018, Pagliaro won the North American Young Rider Endurance Championship title. In 2019, she earned an invitation to the FEI Young Rider/Junior Endurance World Championships by winning a 120km FEI-ranked CEIYJ2* event, repeating this feat in 2020.
Pagliaro's achievement marks the first time that The Bahamas will be represented at the World Championships level in an Equestrian discipline.
"Our goal is simple," concluded Ramsingh-Pierre. "We want to bring Reine and the Bahamian flag to the World Championships podium in September."