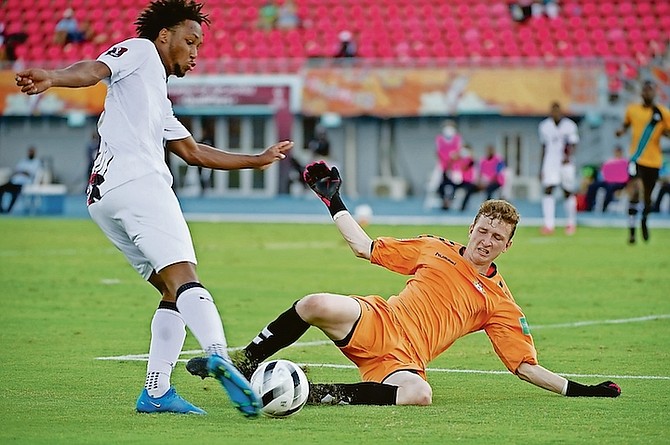 By RENALDO DORSETT
Tribune Sports Reporter
rdorsett@tribunemedia.net
THE Bahamas received their first point in the FIFA World Cup Qatar 2022 Qualifiers and simultaneously eliminated a CONCACAF powerhouse from contention.
The senior men's national team played Trinidad and Tobago to a scoreless draw at the Thomas A Robinson Stadium on Saturday.
The Bahamas completed the group stage with an 0-3-1 record, currently fifth in Group F while Trinidad and Tobago is 1-0-2.
St Kitts and Nevis will advance as the top team in Group F with their finale against Trinidad and Tobago next week now taking on less importance due to Saturday's result.
"We just kept preaching a positive message, giving them confidence through positivity, taking everything one step at a time, not to force it, relax and play the game and the result would come," said Team Bahamas coach Kevin Davies.
"It came from pressure, hustle and fight and some of the balls started to bounce our way. It's a great confidence booster headed into the Gold Cup and it started with our goalkeeper. After he made a few saves, the more he denied Trinidad, without a doubt it gave the guys confidence that they could play with a team at that level."
Trinidad and Tobago, who last qualified for the World Cup in 2006 in Germany, came in as the heavy favourite but The Bahamas delivered a spirited performance, highlighted by 18-year-old keeper Ian Lowe.
"We knew coming into this Trinidad and Tobago game that they were the better team, but we did not let that get to us. We stayed mentally switched on long before the game started. We played our hearts out til the final whistle. Words can't even describe how happy we were. Let's just say the locker room got really loud.
"This game will go down in the Bahamas soccer history book for sure and I am happy that I was able to represent my country," Lowe said.
''There were several times that Trinidad and Tobago had chances but unfortunately on their part they were not able to put them away. After the half we realised that we can do this. The first save I had definitely was a boost of confidence to motivate me to keep pushing and keep pushing my teammates."
Team Bahamas opened the qualifiers with a 4-0 loss at home to St Kitts and Nevis.
They suffered their second consecutive loss when they were blanked by Guyana at the Felix Sanchez Olympic Stadium in Santiago, The Dominican Republic.
In game three The Bahamas suffered a 7-0 loss to Puerto Rico at the Mayaguez Athletics Stadium in Mayaguez, Puerto Rico.
"Well getting beaten 7-0 in Puerto Rico was definitely a bummer, they were able to exploit us very quickly in the game," Lowe said. "After that hard loss we kept our heads up and learned from those mistakes."
Lowe played in just his fourth international and will be attending Olivet Nazarene University in Bourbonnais, Illinois.
Trinidad and Tobago head coach, Terry Fenwick, credit The Bahamas' effort but admitted his team
"I've got to hand it to The Bahamas, they had a gameplan they dug in deep, they wore their hearts on their sleeve, they fought for every ball and they grinded out a result, every disappointing for us at Trinidad and Tobago. We squandered multiple chances and with the quality players we have got with this squad - this is a big disappointment," he said, "Did not give away chances really, created possibly six, seven, eight chances and if you don't score at this level, teams will come back and bite you, and I thought that's what they did. The Bahamas showed a lot of pride and passion, played for their country and the chances that we missed I think were glaring."
The Qatar 2022 qualification process features three rounds. The First Round (30 teams) will feature CONCACAF teams ranked 6-35 based on the FIFA/Coca-Cola rankings. Groups will compete in a single round robin format. Each team will play every other team in their group once, playing a total of four matches; two home and two away.
At the end of the first round the six group winners will progress to the second round. The second round (six teams) will be played between the group winners from the first round in a home and away in a direct elimination format.