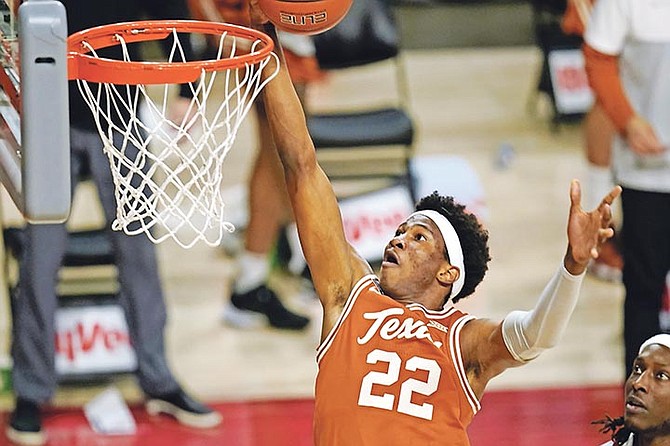 By RENALDO DORSETT
Tribune Sports Reporter
rdorsett@tribunemedia.net
BIG nights from Kai Jones and Sammy Hunter en route to résumé building wins for their programmes highlighted Bahamian student athletes in NCAA Division I basketball on Tuesday night.
Jones led his Texas No.15/16 Texas Longhorns in nearly every statistical category and set several season highs in an 81-67 win over the Iowa State Cyclones in a Big 12 matchup at the James H Hilton Coliseum in Ames, Iowa.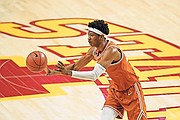 The 6'11 sophomore forward finished with 17 points (season high), eight rebounds, three steals (career high) and two blocks (season high).
He also set a new career in free throws made after he went 9-10 from the line. Jones more than doubled his previous high in trips to the foul line, which he attributed to the Longhorns' fast paced play and the guards finding him in the right spots.
"It was a blast, I like when we get to play uptempo basketball, I feel like that's when we're at our best, we have long athletic guys who can deflect balls, get steals, so that's something that I think we're really good at," he said. "I think it was big for us because we have the advantage on the interior so that's something coach has been emphasizing for in practice to us as individuals and as a team for the guards to get in the paint and create better three point shots and to get higher percentage shots as well.
Jones reached double figures in scoring for the ninth time this year (21 games) and 11th time in his career (48 games). His putback dunk increased the Texas margin to as much as 17 points before they took a 38-28 lead at the half.
"The guards have been doing that all season, finding us in cuts, but the past two days in practice we've been emphasizing playing together, just playing with that flow and that chemistry," Jones said, "We've gone away from that sometimes during the season and I think it was huge for us to get that flow back that camaraderie back."
The Longhorns, 19-6, will return to action when they travel to Norman, Oklahoma to face the No. 16/15 Oklahoma Sooners on Thursday, March 4. They currently have a 7-2 record on the road this season. Tip off is set for 9pm local time and the game will be televised nationally by ESPN.
"He had some plays where he really played with great maximum effort, you know, multiple efforts - when he does that, he's really special as a player. I thought he did a really good job at the foul line, 9-10 is huge. When you're 6'11" and you can shoot that well from the line that's big," Longhorns head coach Shaka Smart said, "He defensive rebounded pretty well, his activity on defensive was good, he got his hands on the ball some which was good. I'm happy for him that he's kind of coming to this realisation of who he can be, but he's really just scratching the surface. We need this type of energy and multiple efforts from energy as we go here in March."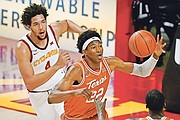 In the SEC, Hunter posted a career high 11 points in the Ole Miss Rebels' 70-62 win over the Kentucky Wildcats at The Pavillion in Oxford, Mississippi. The win ended the Rebels' 11 game losing streak to the Wildcats and was their first win in the matchup since 2011.
 The 6'9" sophomore forward entered the game 3-20 for his career from beyond the arch, but shot 3-5 against Kentucky Tuesday night to reach double figures for the first time in his collegiate career.
Coach emphasized that they're a good SEC team despite the record and they are a good team. They've got some NBA guys on that team so we just respected them, played the game the right way tonight," Hunter said, "Practice was great, we were energized and guys were just locked in because we knew what was at stake. We didn't want to let an opportunity like this slip away against a very good team. Guys were vocal, guys were cheering each other on. We just played for each other tonight and the result was the W."
Ole Miss improved to 14-10 on the season, 9-8 in the SEC and is looking to earn an at-large bid in the NCAA Tournament with a strong finish to the regular season.
"Coach talked to us about it and people like Jarkiel [Joiner] and Romello [White], especially Romello because this is his last year at Ole Miss, we have been talking about it and we're trying all we can to make it to the NCAA Tournament," Hunter said, "It's possible, anything's possible, you just have to believe. Call us crazy but we believe in each other, we believe in ourselves. We'll just take it game by game, dady by day, practice by practice and see what happens."
Ole Miss held a 42-28 advantage on the boards.
"We were very good on the glass, that's something we emphasised. [After the game] It was just a happy locker room. Just like Tennessee, just like Missouri when they were ranked No.10, guys just want to see each other do well and that's what we did tonight. We shared the ball and just got a W.," Hunter said, "We try to play hard all the time, sometimes we miss shots and we let that affect what we do on the defensive end but for the most part we play hard. You're not going to be perfect, we strive to be but, that's the result."
Ole Miss has one regular season game remaining, a March 6 matchup against Vanderbilt, before they head into SEC Tournament play
In Conference-USA, Radshad Davis returned to form in his third game back from injury and posted his third double double of the season.
The Panthers closed out the regular season with a 71-69 loss to the Western Kentucky Hilltoppers at EA Diddle Arena in Bowling Green, Kentucky.
Davis finished with 21 points and 10 rebounds.
In the first of the two game series with EKU, Davis finished with 13 points and seven rebounds in a 91-58 loss.
At 9-17 on the season, FIU travels to Frisco, Texas, for The Air Force Reserve C-USA Basketball Championships presented by Baylor Scott and White Medical Center Frisco. The tournament is slated to begin Tuesday, March 9, and run through Saturday, March 13.
In the Atlantic Sun Conference, Franco Miller Jr and the Florida Gulf Coast Eagles returned from a two-week pause due to COVID-19 protocols, fell to 9-7, 4-5 ASUN with an 80-63 loss to Kennesaw State in the regular season finale.
Miller was injured in the first half and limited to just 12 minutes
In the ASun Tournament, FGCU will be a No.6 seed and will play No. 3 seed Lipscomb in the quarterfinals, Thursday, March 4 at Jacksonville's Swisher Stadium, 7pm local time.
In the Horizon league, the season came to an end for Charles Bain and the Robert Morris Colonials with an 83-73 loss to Detroit Mercy in the first round of the Horizon League Tournament.
Bain finished with eight points, five rebounds and the Colonials ended the year with an overall record of 4-15.
"Obviously it's a tough way to end the year," RMU head coach Andre Toole said. "I wanted the season to continue if we could, and I thought we battled. It was symbolic of the majority of our year. We just weren't able to get enough stops.
The 6'8" senior forward averaged 7.4 points and 3.4 rebounds per game this season.