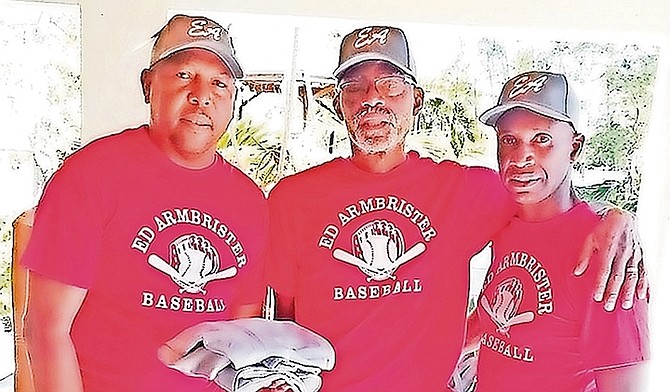 By RENALDO DORSETT
Tribune Sports Reporter
rdorsett@tribunemedia.net
ED Armbrister, the only Bahamian to rise to the pinnacle of Major League Baseball and claim its ultimate prize, died Wednesday at age 72.
Armbrister played in the MLB from 1973 to 1977 with the Cincinnati Reds. He was a member of the vaunted "Big Red Machine" era that produced three National League pennants and two World Series titles (1975, 1976) in a five-year window.
Armbrister is one of just six Bahamians to play in the MLB and still the only one to win a World Series title.
Born Edison Rosanda Armbrister on July 4, 1948 in New Providence, Armbrister first made his mark on professional baseball when he signed with the Houston Astros at 19 years old in 1967.
At the Winter Meetings in Phoenix, Arizona, in November 1971, the Reds acquired Armbrister, Joe Morgan, Jack Billingham, César Gerónimo and Denis Menke from the Astros in exchange for Lee May, Tommy Helms and Jimmy Stewart. It was the trade that solidified the Reds' lineup for years to come. Armbrister made his major league debut with the Reds on August 31, 1973 at the age of 25 and served primarily as an outfielder for the club.
He continues to live on in MLB history for a controversial bunt in Game three of the 1975 series against the Boston Red Sox. In the tenth inning, Armbrister was called on to pinch hit and laid down a sacrifice bunt.
Ambrister's bunt bounced high, and as he started to run out of the batter's box he bumped into Red Sox catcher Carlton Fisk. Fisk made a wild throw in an attempt to throw out César Gerónimo at second base. Home plate umpire Larry Barnett did not make an interference call on Armbrister, a decision which was a source of heated debate after the Reds won the game 6–5.
Armbrister eventually concluded his playing career with the Reds in 1977.
His MLB career statistics include 65 base hits in 265 plate appearances for a .245 batting average, 4 home runs, 46 runs scored, 11 doubles, 6 triples, 19 runs batted in and 15 stolen bases while competing in 224 games as a reserve outfielder. His peak game performance included two home runs on four hits.
Armbrister, who was often used to sacrifice bunts, committed 8 errors in 109 chances in the outfield with 93 putouts and 8 assists for a .997 fielding percentage.
Following his playing career, returned home and worked in both the private and government sector while also continuing his efforts to aid local youth baseball development.
In 2008, he was inducted into the Bahamas National Sports Hall of Fame.
He established the Ed Armbrister League in 2011 and the Reds organization donated an assortment of new and used equipment to assist the new venture. The organisation eventually moved away from the league play to join the Community Baseball of Nassau but concentrated on putting on camps in the inner cities in New Providence. Prior to the COVID-19 pandemic in March 2020, league stakeholders announced that the EABL would return to league play for 14U and 10U divisions.
Armbrister recently spoke to the Tribune on the local state of the game and his excitement to see the new generation of players make the most of their opportunities in Major League Baseball.
"When I see these guys signing, I want them to have a game plan to stay there as long as they could,"We are on a roll right now with Jazz [Chisholm] making it and Lucius [Fox] coming up right behind him," he said, "When I was there, I didn't have the support that these players have today. So I want to encourage them to go out there and make the best of their situation."