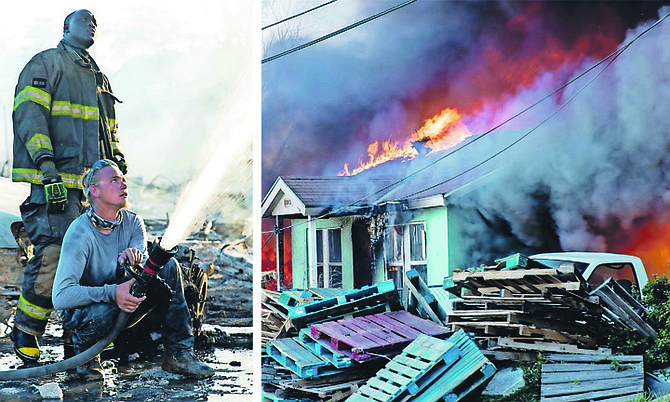 By EARYEL BOWLEG
Tribune Staff Reporter
ebowleg@tribunemedia.net
A MASSIVE fire at Jennie Street yesterday destroyed six structures and left four partially damaged leaving families in total devastation.
Helpless to the violent flames that moved from one structure to the next within minutes, Thomas Daxon was among the people who looked on.
When he first arrived at the scene his house was intact, however as minutes turned into an hour the fire spread to his uninsured home and engulfed it.
The 63-year-old said he also lost his boat, which he relies on to help care for his family.
"It's devastating. It's terrible," the 63-year-old said of the situation. "I can't think because my mind blank. I don't know what to think.
"My boat I was making money off is gone and that's it. I can't think."
He said he was not at home when the fire started and only found out through a phone call.
"My wife and my grandson was the only the two people in the house. I was on the job. They call me and tell me they called the fire engine. When they reach here the engine wasn't even here as yet."
A 99-year-old woman was also taken to the hospital by ambulance to be treated for smoke inhalation.
According to police, the cause of the fire, is not yet known.
Police said: "Preliminary facts are that shortly before 3pm, the Fire Department received reports of a structural fire on Jennie Street. Moments later, the first unit arrived at the scene where they found several structures engulfed in flames. The officers began to extinguish the fire. Several minutes later additional units arrived at the scene and assisted with the extinguishing of the fire.
"Initial assessments reveal that six structures were completely destroyed and four were partially damaged."
When The Tribune arrived on the scene, the neighbourhood was at a standstill as black billowing smoke hovered over the community and the engulfed homes.
The large cloud of smoke could be seen from Tonique Williams-Darling Highway and as far east as Village Road.
The flames were unruly, and police were forced to block off certain roads near the blaze.
Officers also manned the perimeter of the fire to prevent bystanders from getting near and possibly suffering smoke inhalation.
If the presence of police was not a sufficient deterrent, the fire's intensity was motivation enough for the crowds to run from the scene.
But this did not stop concerned residents from trying to approach the roadblocks as they feared the fire would move to other neighbouring houses, including their own.
One onlooker was searching for his relative.
"Our grandmother 97 years of age," he said, "That house that burned down is her house. They removed her and put her somewhere and we don't know where she is."
"They say she somewhere around here somewhere. We trying to get to her, but she ill and the police don't want to us to get to her."
The gravity of the damage was blamed by some bystanders on the firefighters not having enough water to put out the blaze in its early stages before it grew out of control.
Mr Daxon noted that there seemed to be issues with water.
"The fire engine came and didn't have enough water. They didn't have no water in it," he explained. "I sit there and watched my house burn. I sit there for more than 45 minutes to an hour and watch the house burn."
"This more than half an hour and we ain't see another fire engine yet."
He added: "They had a little bit of water. It lasted about two minutes and then it stopped."
Another man said: "I mean they run out of water quick, so they had to keep on going to the fire hydrant. I don't know why they ain't send more fire trucks.
It was three of them, but they ran out of water quick. Like I say, that's more than one house on fire."
Asked if he believed other houses could have been saved if there was more water, the man said: "They look like they was doing the best they could, but if they had more water, I think so – yeah.
He also aid his neighbours were evacuated.
Mr Daxon called on the government to assist in the matter.
"I'm calling on my representative, Mr (Romauld) Ferreira to come and assist us in this situation that we're in right now," he pleaded.
"We sitting here watching my house burn like why we are paying bills if we can't get the money – something back for it. We asking the government to please consider us in this situation we're in that we could get our life back."
The 63-year-old's home was not insured.