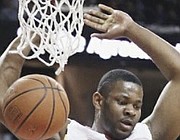 By RENALDO DORSETT
Tribune Sports Reporter
rdorsett@tribunemedia.net
SHAQUILLE Cleare will return to Spain in the Española de Baloncesto – Gold while Travis Munnings and Kino Burrows had season high performances for their respective clubs.
Cleare will join Actel Forca Lleida in the second division in the country's basketball system.
In 24 games with the club in the 2018-19 season, he averaged 11.3 points and 4.5 rebounds per game.
Cleare initially signed with SO Maritime Boulogne of France's Nationale Masculine 1 League for the upcoming season.
Last season, Cleare briefly joined Munnings at UD Oliveirense in Portugal's Liga Portuguesa de Basquetebol (LPB).
In just six games with the club, he averaged 9.5 points, 4.2 rebounds, and 1.3 assists per game.
In his four-year professional career, he has also played in Mexico and Switzerland.
Munnings had his best game of the FIBA EuroCup since he joined Sporting Lisboa Benfica.
The third year forward finished with 22 points, six rebounds and six assists in Benfica's 99-89 win over Opava on Tuesday. He followed with just three points last night, but Benfica continued their EuroCup win streak with a 78-76 win over Heroes Den Bosch in the Netherlands.
Munnings is averaging 11 points, 4.4 rebounds and 3.5 assists per game, shooting 53 percent from the field and 53 percent from three-point range. He is currently in his second season in Portugal's LPB. Last year he averaged 12.5 points, 8.1 rebounds, and 3.3 assists per game for UD Oliveirense. Burrows scored a team high 19 and grabbed five rebounds for St. Thomas Basket Le Havre in a 77-59 win over So Pont de Cheruy Charvieu Chavanoz to improve to 5-4 on the season.
The veteran forward shot 9-10 from the field to help his team improve to No.6 in Group B of France's NM1 League. On the season, his first with the club, Burrows is averaging a team high 13.9 points and 4.2 rebounds per game.
Also in the NM1 League, Willis Mackey has emerged as the leading scorer for Mulhouse Basket Agglomeration.
In six games, the third year forward is averaging 14.3 points and six rebounds per game on 68 percent shooting from the field and 50 percent from three-point range.
Mackey spent last season with JSA Bordeaux Métropole Basket as the team struggled to a 7-19 record, 13th place in Group A. In 16 games he averaged 13.2 points, 6.3 rebounds, 1.2 assists, and 1.1 steals per game.