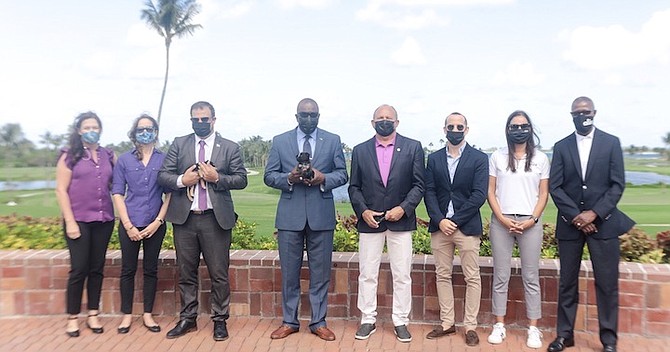 By BRENT STUBBS
Senior Sports Reporter
bstubbs@tribunemedia.net
NEITHER may be able to be competitive on the course, but both Minister of Youth, Sports and Culture Mario Bowleg and Minister of Agriculture and Marine Resources Clay Sweeting are lending their full support to the inaugural Potcake Golf Tournament.
Scheduled for December 12 at the Ocean Golf Club, the two newly appointed Progressive Liberal Party ministers joined Aliv's chief executive officer John Gomez to help raise $100,000 for Bahamas Alliance for Animal Rights and Kindness (BAARK).
Aliv is the title sponsor and according to Gomez, they are ready to ensure that the event is a success.
Tournament chairman Mario Carey said their goal is an ambitious one for a tournament that has never been held before, but when they heard about the needs of BAARK, they jumped at the opportunity to assist with their tireless work of protecting and controlling the dog and cat population in the country.
In partnering with Louisa Holowesko, Mark Carey and Rachel Hale, Carey said funds raised will be used towards operational costs, including veterinary staff, supplies and ongoing outreach efforts.
Garden Hills Member of Parliament Bowleg, who indicated that he intends to bring along former MP Leslie "Potcake" Miller to participate, said it's important to bring awareness to the rights of animals as this initiative also proves that sports plays a vital role in various aspects in this country.
"This first annual International Potcake Golf Tournament will assist BAARK with executing their spay/neutering programme," he said.
"Pets are a major part of The Bahamian family. I too was once a pet owner of a potcake named Sally.
"I am happy to know that these lovely animals are now finding homes in Canada and the United States."
Although he admitted that he may not be able to hit the golf ball as he would shoot a basketball, Bowleg said he will be in attendance to assist BAARK in achieving their goal and he encouraged business owners, all golf lovers and supporters to be a part of the inaugural event.
As the MP for Central and South Eleuthera, he said the island he now represents has seen tremendous support from BAARK even before he was elected. He noted that he's excited that they will be back to continue their work on the island in December.
He congratulated BAARK and the organisers of the tournament and noted that while he may not be able to hit the ball too far, he will be there to lend his support and his ministry will be behind him 100 percent.
The tournament will be a two-man scramble with a $250 registration fee. Every dollar will be needed to assist BAARK when they receive a donation from a mobile clinic from a private donor to increase their spaying or neutering of animals on a yearly basis.
Organisers are also encouraging persons to represent their respective islands or countries of birth or where they are descendants to make it more interesting.
However, each island or country must have three teams of two persons.
A minimum of three scores from each island or country will be added together with the best combined scores taking the floating trophy.
It's anticipated that there will be a full flight of 120 golfers participating, but organisers are not discouraging those persons and companies from just lending their financial support, even if they don't participate.
In addition to Aliv, the other sponsors include Odyssey, Think Simple, Graham Real Estate, RBC Royal Bank of Canada, Simplified Lending, Tropix Express, Purina and Compass Solar and gold sponsors, Lennox Paton and Caribbean Bottling Company Limited as green sponsors, Insurance Management as the hole-in-one sponsors and Aquapure and Pet Food Institute as the other sponsors.
Royal Caribbean is donating a seven-day cruise for two, while Comfort Suites has a three-night, two-day stay at their resort on Paradise Island, Albany Golf Club is offering golf and lunch for four, SuperClubs Breezes has a two-night stay, Sapodilla Restaurant will provide dinner for two and Tropic Ocean Airways is giving away two return flights from Fort Lauderdale.
Additionally, Graycliff will provide cigars with custom labels, Ocean Golf Club will issue a round of golf for four, Bahamas Ferries has four round trip tickets to Harbour Island, along with various prizes from other corporate sponsors.
Interested persons can contact 427-SPAY for more information.