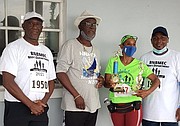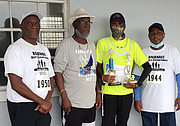 EVE Dorsett and David Prabhu picked up where they left off two years ago as they re-emerged as the overall female and male winners of the Bahamas Baptist Missionary and Educational Convention Men's Department 2021 Family Fun Walk Race on Saturday.
Dubbed "Back on the Road Again," the event returned after a two-year hiatus because of the spread of the coronavirus pandemic in 2020. It covered just over six miles and attracted a good cross section of men, women, boys and girls.
And when all of the results were tallied, Macedonia Baptist Church, led by its senior pastor, Rev. Dr Hartman Nixon and his wife, Minister Laverne Nixon, carried the overall team trophy to Fox Hill.
Men's director Rev. Stephen Ferguson said he was delighted to see the event come off after it was postponed because of the inclement weather two weeks ago when it was originally scheduled. "I want to commend the committee for a job well done," said Ferguson of the two-man team of Minister Brent Stubbs and Rev. Dereck Munroe. "I also want to thank the public for coming out and supporting us in this initiative. It was well-attended and we look forward to an even greater attendance at our next Family Fun Walk."
The walk got started from the Bahamas Baptist College on Jean Street and headed south to Prince Charles Drive. On Prince Charles Drive, the competitors headed east all the way to the red light at Fox Hill Road. There they turned around and traversed west on Prince Charles Drive and turned right onto Jean Street to the finish line at the Baptist College.
Dorsett, undoubtedly the top female walker in the country before the pandemic struck, left no stones unturned as she reclaimed her crown, this time in the walk race rather than the run, as she easily pulled away from her rivals in the female division.
In winning the 50-and-over category as well, Dorsett, a member of Family Life Kingdom Center, held off her closest rivals Lauriette Ferguson from New Bethlehem Baptist Church and Pauline Zonicle-Claude from Providence Baptist Church.
"It was a well-organised event and the attendance was great," said Dorsett, in retaining her title. "I enjoyed the walk, even though we came out to run. Hopefully, I will be back next year to compete again."
For Prabhu, it was like a piece of cake in adding another men's crown to his collection. "It was really nice to be out amongst the people after almost a two-year hiatus," Prabhu said. "It was very nice to be out there in the front. I really enjoyed it."
Prabhu, a member of St Anselm's Catholic Church, also carted off the under- 50 male category. Earle Bethell, the first place finisher in the 50-and-over category, trailed Prabhu in second place at the finish line.
There was also a Pastors/Ministers' category for the Baptist churches with Rev. Clinton Minnis, of Providence Baptist Church, taking the title.
Rev. Daniel Nottage, of Fellowship Missionary Baptist Church, and Rev. Stephen Duncombe of Jubilee Mission Baptist Church got third place.
A number of prominent Bahamians also took part in the event, including former Member of Parliament Leslie Miller, Anglican priest Father James Palacious, former CEO of Batelco Leon Williams and captain Stephen Russell, director of the Bahamas National Emergency Agency (NEMA).
Although he didn't get to participate, Rev. Dr. Philip McPhee, the first vice president of the Baptist Convention, was on hand to lend his support. Newly ordained Rev. Patrick Sweeting, the men's executive secretary, along with Ann Thompson, Nicola Major, Audra Tynes and Dionne Rolle, all assisted the committee.
Bahamas Bodybuilding and Fitness Federation public relations officer Nardo Dean provided some healthy tips for persons to utilise on a daily basis as they try to maintain some type of fitness following the walk.
Overall Female Winner -
Eve Dorsett
Under-15 Division –
1 Lashan Rolle;
2 Lynette Delancy
Under-20 Division –
1 Taneisha Rolle
Under-30 Division –
1 Dinae Rolle;
2 Brittany Stubbs;
3 Brentisha Stubbs
50-And-Over Division –
1 Eve Dorsett;
2 Lauriette Ferguson;
3 Pauline Zonicle-Claude
70-And-Over Division –
1 Janice Coakley
Male Overall Winner -
David Prabhu.
Male 15-And-Under –
1 Leonard Delancy Jr.
Male Under-30 Division
1 Glenroy McKenzie.
Male Under-40 Division
1 Adrian Miller;
2 Latino Rolle Sr.
Under-50 Division –
1 David Prabhu;
2 Leonard Delancy Sr.
50-And-Over Division
1 Earle Bethell,
2 Rev. Clinton Minnis;
3 Michael Dillett.
70-And-Over Division –
1 Leslie Miller;
2 Leon Williams;
3 Rev. Harrison Thompson.
Pastors/Ministers category – 1. Rev. Clinton Minnis; 2. Rev. Daniel Nottage; 3. Rev. Stephen Duncombe. Others participating were Rev. Harrison Thompson of Faith United Missionary Baptist Church and Rev. Dr. Hartman Nixon of Macedonia Baptist.