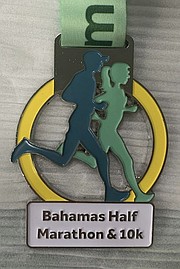 By BRENT STUBBS
Senior Sports Reporter
bstubbs@tribunemedia.net
WHILE they wait on the restrictions to be lifted for mass gatherings at public outings, Bahamas Roadmasters is encouraging persons to come out and participate in their Cancer Treatment of America Virtual 9th Bahamas Half Marathon and 10 Kilometre race.
The event, sponsored by the Cancer Treatment Centers of America, is scheduled for the weekend of Saturday-Sunday, November 20-21. Part proceeds will go to The Nurses Association of the Commonwealth of the Bahamas (NACB).
For an entry fee of $50 for the half marathon (13.1 miles) and $25 for the 10K (6.2 miles), runners can choose their route and day and time as they attempt any aspect of the run, but it is hoped that they can be completed by Saturday morning when the executives of the Bahamas Roadmasters will be on hand to distribute medals and t-shirts for participants to complete the suggested route.
"We are asking them to come out and run any way they want to run, but we have come up with a suggested route," said Bahamas Roadmasters' president Marcel Major.
"If they can, we are suggesting they use the route from Arawak Cay where the Saxons practice on Saturday.
"For the 10k, they can travel from Arawak Cay to the round-a-bout just before Rosewood and back to Arawak Cay to give them the 6.2 miles," Major said. "And from Arawak Cay to Sun Fun and back, that would give them the 13.2 miles for the half marathon. That is the suggested route."
Major said they are also encouraging the general public to pre-register by going online: http://www. bahamashalf242.com]www. bahamashalf242.com or visit in person the Four Seasons Nursery in Chippingham or the Palmdale Vision Centre in Palmdale to fill out their application forms.
"We want to drum up as much support as we can," Major said. "We are looking to accommodate about 250 persons," said Major, compared to the 300 entries they had last year. "So we want people to sign up as quickly as possible."
Once signed up, persons will receive a swag, which will include a buff, a commemorative t-shirt and medal for participating in the event.
Sun Tee and the Caribbean Bottling Company Limited, distributors of Coca-Cola, are also sponsoring the event.