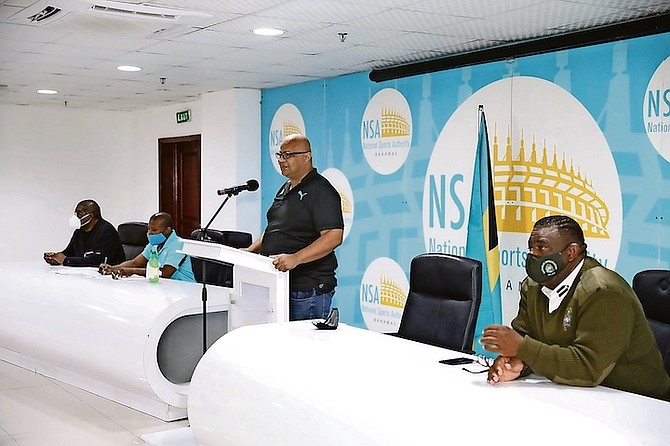 THE Bahamas Olympic Committee named its 17-member team set to compete at the inaugural Junior Pan American Games.
The country will be represented in six disciplines at the event, featuring thousands of the best young athletes across the region, November 25 to December 4 in Cali, Colombia.
The gold medallists in each event will also earn direct qualification to the Santiago 2023 Pan American Games. Leading the way for the seven-member athletic contingent will be several athletes that ended last season on the World Athletics' Top List, including Olympian Lacarthea Cooper, Carlos Brown Jr and Tarajh Hudson.
Cooper, the only woman in the athletics contingent, will compete in the 100m and 400m. Brown was listed at No.4 in the world in the under-18 boys 200m. His personal best time of 20.99 seconds made him the country's third youth athlete to surpass the 21-second mark.
Hudson will compete in his signature event - the discus. He was last ranked No.13 in the world with a personal record of 54.57 metres.
Other team members include Antoine Andrews (200m), Tre Buchanan (400mH), Gabriel Curtis (5,000m/10,000m) and Kyle Alcine (High Jump).
The coaching staff includes David Charlton, Kennord Mackey and Dione Britton. The swim team will be led by a pair of NCAA All- Americans - Davante Carey and Lamar Taylor. Carey, the McKendree University junior, will compete in the 100 Fly, 100 Back, 200 Back, 100 Free, Mixed 400 Free Relay.
Taylor swims in the 200 Free, 100 Free, 50 Free, 100 Back and Mixed 400 Free Relay.
Other team members include Nigel Forbes ( 200 Fly, 200 IM, 100 Fly), William Russell (100 Breast, 200 Breast) and Shawn Neely (Mixed 400 Free Relay).
Two women will complete the swim team - Rhanishka Gibbs (100 Breast, 50 Free, 200 IM, Mixed 400 Free Relay) and Rachel Lundy (200 Free, 100 Free, 50 Free, Mixed 400 Free Relay). Trevano McPhee serves as the head coach.
Breanna Gayle competes in rowing (Oar W1x), coached by Karianne Kulig; Ralph Wood III will compete in the triathlon, coached by Cameron Roach; while Chigozie Ijeoma will compete in wrestling in the freestyle 97kg division, coached by Clinton Burke.
The chef de mission is Clarence Rolle, team manager and deputy chef de mission is Rudolph Ferguson and is at the helm for the medical unit. More than 3,500 athletes from 41 countries will arrive in Valle del Cauca along with about 10,000 people in general, including family members of the athletes, journalists, international volunteers, leaders and coaches of the multiple delegations.
"We want to receive all of them with the warmth and friendship with which all Colombians are known for," said José Luis Echeverry,