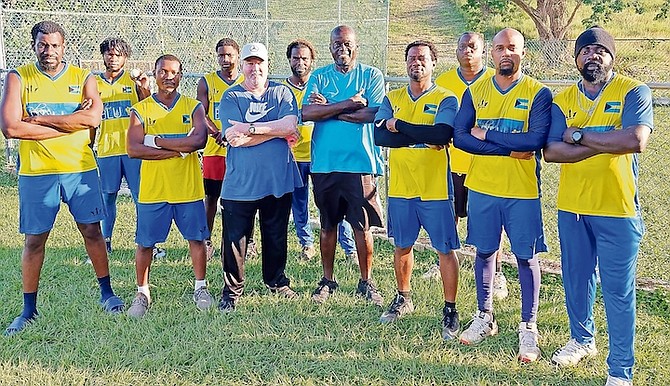 By BRENT STUBBS
Senior Sports Reporter
bstubbs@tribunemedia.net
IT'S been quite a while since the Bahamas Cricket Association has played any international competition. But with a new coach in town, president Greg Taylor is confident that the men's national team will be fit and ready for the task ahead of them.
Andy Moles, a resident from Cape Town, South Africa, has been here for the past month preparing the team to travel to the International Cricket Council's World T-20 Qualifier.in Antigua from November 2-12.
"We are trying to get the team in shape and we were abv to get some assistance from coach Andy Moles, who is a world-renowned coach with stints in Afghanistan, New Zealand, Hong Kong, Argentina, Canada, just to name a few," Taylor said.
"He's trying to prepare us for this very important tournament. Our last ICC Tournament was in 2013, so we want to come out of the gate really prepared."
Based on what he's seen so far at their practices at Haynes Oval, Taylor is confident that the 14-member team when it's selected in about two weeks will be in tip top shape to travel to compete.
Moles, a native of Birmingham, England, said it was frustrating the past ten days that he started to work out with the team because of the inclement weather experienced.
"I found that the players have been very keen and they brought into the new fitness regime that I put in place because they were not fit when I arrived," he said. "We've been putting in three mornings at 6 o-clock, running around the field in the dark.
"They are starting to show off. They are getting fitter, which means that we can practice for longer during the sunlight time. But the hardest thing has been putting in a schedule around their time because they are not professionals, which has worked reasonably well."
With just about a month left before they travel, Moles insisted that he intends to have the team fit and ready to compete and hopefully move from the eighth spot in the pre-tournament ranking to at least third or fourth.
"With a lot of work that won't be difficult," he projected. "We know that American and Canada are the two top ranked sides in our group and they've been playing a lot of cricket.
"They have been traveling around the playing field, even now as we speak, so they have more cricket experience going into the tournament. In the Bahamas, due to Clvid-19, they have not played any club cricket for over 18 months and they haven't been in any international cricket for at least four years."
The main goal for Moles is to get the players to renew their old cricket habits and get back to that competitive level of cricket, even though he used to have a tournament or scrimmage to play in before they travel.
"My task is to get them to at least fourth place," Moles said. "We have to work on everything, including their fitness, cricketing skills and their mental productions.
"They're working on it and they're getting better, but they only have a month to go. They are improving. Will they be able to get to that level to win as many games as they can, only time will tell."
Everette Haven, a long-time player who started at the age of 15 and played on many national teams, said this is an exciting time for cricket in the Bahamas they have an international coach.
"A lot of work that we have already put in prior to this coach coming in has everybody excited," Haven said. "We all have high expectations for ourselves and for the team."
And having to get rid of the cobwebs and jitterbugs, Haven said they are eager to get on the cricket pitch and see how well they can perform against their international counterparts.
"Practice is pretty much game oriented, so I think one of our high expectations is that we will be extremely fit and with a high level of fitness, we expect high performance."
The players go through a vigorous one hour training session every Monday, Wednesday and Friday mornings, Tuesday and Thursday evenings and again on Saturday morning until the coach dismisses them.