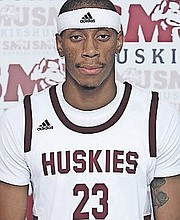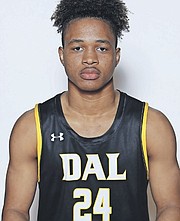 By RENALDO DORSETT
Tribune Sports Reporter
rdorsett@tribunemedia.net
COLLEGIATE basketball in Canada has returned at the U Sports level, and several Bahamian participants made their 2021 debut in the Stu Aberdeen Memorial Preseason Tournament.
Shamar Burrows helped lead the Dalhousie Tigers to a 3-0 record at the event, which included a semifinal win over a St Mary's Huskies team which includes forward Qymeh Gibson and assistant coach Ollen Smith.
Burrows finished with 20 points and a team high eight rebounds.
Gibson finished with 15 points and six rebounds in the Tigers' 100-92 win at Acadia University in Wolfville, Nova Scotia, Canada.
Burrows shot an efficient 8-11 from the field and Gibson sent 5-12, including 3-7 from three-point range.
Dalhousie began the tournament with an 84-79 win over the St Francis Xavier X-Men, followed by a 91-67 win over host team Acadia. St Mary's went 1-2 after a 92-71 tournament opening win over Acadia.
In a 93-90 win over St FX, Gibson finished with 11 points (3-8 on three pointers) and seven rebounds.
Both programmes are members of the Atlantic University Sport Conference. The 2021-22 AUS regular season is set to begin Friday, October 29.
The reigning AUS champion Tigers will travel to Cape Breton in their season opener while the Huskies will travel to Acadia.
The fall semester play will wrap up Sunday, November 28. Regular season play resumes Friday, January 7 for the winter semester. The regular season concludes Saturday, February 19.
The 2021 AUS championships will be hosted by the AUS conference office at Scotiabank Centre in Halifax, Nova Scotia and will take place February 25-27.
U-Sports cancelled their 2020-21 basketball season, but Burrows was named the Tigers men's basketball "Tiger of the Year" by head coach Rick Plato.
According to the programme, the award is given to the player who displays "unwavering commitment to training and devotion to the growth of the team."
"There are a great many athletes who could have been selected as our Tiger of the Year this season, but there is one who really upped his level of commitment in the face of the COVID-19 pandemic," Plato said.
"Shamar's energy and enthusiasm in practice was consistent regardless of the time of day, the drill, or the type of day he was having. A three-year veteran of the team, he has grown and matured leaps and bounds over the course of his career and has become a true leader and a great ambassador for the men's basketball programme on and off the court."
Burrows is one of several players returning to a Dalhousie team that made programme history in the 2019-20 season.
The Tigers finished the year 23-2. They ended just short of their ultimate goal, but finished as the second ranked team in all of Canadian collegiate basketball. They finished with the silver medal at the 2020 U SPORTS Final 8 Basketball Championships - the best finish in programme history.
In his second season with the Tigers, he appeared in 20 games with six starts. He averaged 8.8 points and 4.1 rebounds per game while shooting 54 percent from the field and 77 percent from the free throw line.
"Simply stated, 2020-21, was a year unlike any we have ever seen. Coming off our first ever National Championship game, our men's basketball team was riding high and had tremendous momentum on which to build for this season, then the pandemic struck," Plato said. "The consistency and resiliency of our players and their collective work ethic and dedication made this coach more than proud. I have no doubt that we will be a better team in 2021-22 as a result of the collective effort of our players and coaches."
Gibson helped lead the Huskies to an 11-9 record last year. In his second year with the Huskies, he started all 20 contests and played just over 31 minutes per game. He led the team in scoring and was seventh in the league at 15.4 points per game. He was also eighth in rebounding at 6.5 rebounds per game.
In his first year with the programme, Gibson averaged 5.9 points in just over 10 minutes per game as a reserve.
Gibson was named a Second Team AUS Tournament All-Star.