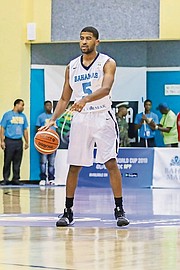 By RENALDO DORSETT
Tribune Sports Reporter
rdorsett@tribunemedia.net
A FORMER Bahamas senior's men's national team player will make the move from the court to the sidelines as he joins the staff of his hometown NBA franchise.
Lynden "LJ" Rose Jr, 27, announced that he has accepted a role in the front office of the Houston Rockets as an international scout.
"Couldn't write the script any better, God, thank you," Rose said. "I'm excited to embark on this new chapter of life."
After three stops along the path of his NCAA career and four years in the professional ranks, Rose said he is optimistic about the prospect of the next phase of his career.
"Over my career, I've won a lot of games and acclaimed a lot of accolades but there's nothing I appreciated more than my 'let downs' or my 'failures.' I believe my story is unique because I've been at the mountain peak but I've also been in the valley. I've felt every emotion you could think of and all it did was teach me balance. That balance made me who I am today. I have had such a great support system I am thankful for everyone who was ever a part of this ride. My coaches, teammates, friends, and family, I am beyond blessed with the relationships I have gained through this game," Rose said. "This journey has been one for the books. I never thought this day would come honestly. Twenty-five years ago my pops put the ball in my hand and I fell in love. I would dribble my ball from the time I got home until it was time to go to sleep every single day. Nothing gave me as much peace as basketball did."
The Rockets are currently in their second year under the regime of head coach Stephen Silas who was named head coach in October 2020. They finished with a league worst 17-55 record last season.
Rose most recently played with Galitos - Barreriro of Portugal's Liga Portuguesa de Basquetebol (LPB) and posted 11 points and 6.2 rebounds per game.
Prior to Portugal, he played with BK Olomoucko Prostejov of The Czech Republic's NBL where he averaged 9.5 points, three rebounds and five assists per game. He also played with Finnish club, Pyrinto Tampere of the Korisliiga - the top level of basketball in Finland where he averaged 7.3 points, 5.1 rebounds and 5.5 assists per game.
His professional basketball journey also included stops in Australia for the Gold Coast Rollers of Queenland's Basketball League, for BC Valga-Valka in the Latvian-Estonian Basketball League and in National Basketball Association's G-League with the Salt Lake City Stars, the G-League affiliate of the Utah Jazz.
At the national team level he participated for The Bahamas in the first series of the FIBA World Cup 2019 Qualifiers for the Americas region. Despite the Bahamas' 0-2 finish, Rose was a bright spot for the team with the numbers he posted, averaging 8.5 points, nine assists and six rebounds per game. He was also a member of the 2014 Caribbean Basketball Confederation Championships gold medal team.
At 6'4" 195 pounds, and a true point guard with a pass-first mentality, Rose was the ninth-ranked point guard in the class of 2012 by ESPN.com coming out of Westbury Christian Academy.
He chose Baylor over Arizona, Memphis and Georgetown.
After he played sparingly at Baylor as a true freshman, Rose transferred to the Houston Cougars. His tenure with the programme was highlighted by a junior season where he averaged 9.8 points and 5.3 assists in a starting role.
In that season he became the 17th player in Houston history to register multiple seasons with at least 100 assists, dishing out 101 in 19 games.
Rose then transferred to the BYU Cougars for the third stop of his NCAA basketball career. He started 25 games in his lone season with BYU and led the team with 4.5 assists per game to go along with 5.5 points and 4.6 rebounds per game.
Rose is the son of Lynden Sr and Marilyn Rose and comes from a strong basketball bloodline following the success of his father and his uncle, the late Cecil Rose. Lynden Sr played collegiately at Houston, where he was a member of Phi Slama Jama, and was selected by the Los Angeles Lakers in the sixth round of the 1982 NBA Draft.
He went on to play professionally in the CBA and Europe and, at the national level, he played for the Bahamas in the 1991 Pan American Games.
Cecil Rose also played collegiately for the Houston Cougars where he scored more than 1,200 points for the programme. He was selected in the 1978 draft by the New Jersey Nets.
Cecil was a member of the famous "Miami Jackson Five" which included Mychal Thompson and played for the Bahamas at the 1977 Pan American Games.