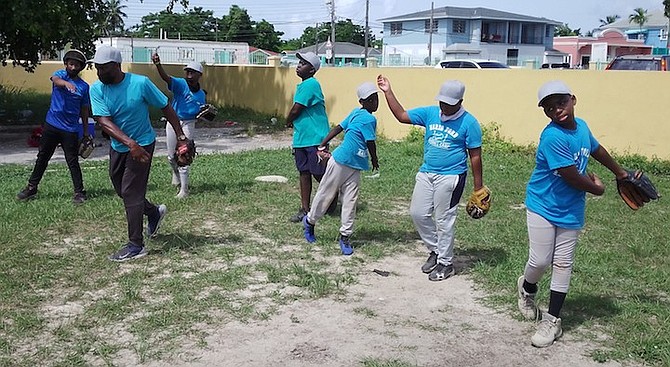 By BRENT STUBBS
Senior Sports Reporter
bstubbs@tribunemedia.net
AFTER taking a short break due to the COVID-19 restrictions, the Mario Ford Baseball Camp is now back in full swing at the Columbus Primary School park.
Ford, the camp organiser, said it's important for the camp to continue as it provides an avenue to help some of the young players to develop their skills in the sports, while at the same time ensuring that they have something wholesome to do with their time on a Saturday morning.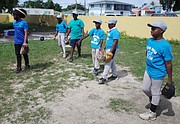 "We started on February 16 and we were here until June," Ford said. "We took a break in June and came back in July. We stopped until September 11 and now we will be here until the end of October. "We want to keep the kids coming out so that we can teach them the fundamentals of the game.
"We know that we are still in a pandemic, but we still have to try and keep these kids active in some type of baseball activity. Once we keep them here, they can learn a lot about the game."
For those who are concerned, Ford noted that all safety measures are in place where the participants have to use the hand sanitiser, wear their masks and practice social distance.
"Baseball is a game where you don't have that personal contact, at least not in practice. So they can come here and spread out," Ford said. "We are just doing the things that the Competent Authority has told us to do."
So far, Ford, one of the country's most prolific softball, baseball and cricket players, said the participants have been adhering to the restrictions and following the instructions given, which makes it so easy to deal with them during their sessions.
"Everybody is following the rules and so it's just up to the parents to feel that their children are in a safe environment," Ford said. "Fortunately, we haven't had any incidents. The kids just come here and do what they have to do and leave.
"I just hope that the government can see that we need these kids out here playing baseball and get them in a conducive environment where they can socialise with each other again. Hopefully things will work out and we can open up soon."
Javan Smith, an 11-year-old sixth grader at St John's College, said he's been coming to the Mario Ford Baseball Camp since he was four. He said he loves the game and his grandfather encouraged him to join the camp. "Just about all of my family used to play baseball and so I decided to do it," said Smith, who enjoys pitching and playing shortstop. "I like the camp because it teaches me how to play the game properly."
One day, Smith said his desire is to become a professional baseball player. But for now, he hopes that his father, Kellie Smith, can continue to inspire him so that one day he can be just like Bahamian Miami Marlins' infielder Jasrado 'Jazz' Chisholm.
"I just have to work hard and do my schoolwork," Smith said.
For Trent Evans, also 11, a seventh grader at St Augustine's College, the camp is just what he needs to hone his baseball skills.
"I decided to come here because I want to be able to make some money playing this game in the Major Leagues," Evans said. "I have to work a little more on my fielding and hitting. We work hard here, so I know I can do it."
As for those sitting on the sidelines watching and contemplating their future, Evans encouraged them not to give up, continue to work hard and try to get into a camp like Mario Ford so that they can develop their game.
Like Smith, Ellis is also a big fan of Chisholm, but he also admires San Diego Padres' shortstop and outfield Fernando Tatis Jr, who hails from the Dominican Republic.
"They work so hard," Ellis said. "They just inspire me with the way they do stuff and just how they do it."
Mario Etienne Jr, a 10-year-old fifth grader at Centreville Primary, said baseball is something he really enjoys and so when his father signed him up for the camp, he was thrilled.
"I just love playing baseball because it's fun," he said. 'I've learned how to catch, how to pitch,' he stated. "I hope that I can continue to get better at the camp. It's a lot of fun."
Etienne revealed that he too enjoys watching Tatis Jr play and hopes that one day he will be right there in the Major League like Chisholm is doing representing the Bahamas.
While he maintains that it's a safe environment for the participants to be involved in to get to the next level, Ford was concerned that there are persons in society who are hell bent on destroying what he's worked to build over the years.
Having left some of his equipment, including two benches for the players to sit on during their practices, Ford said when they returned to the venue on Saturday, they were all gone. "We already had two incidents with equipment being stolen from us," Ford said. "These benches were here from February. We came here this morning and they were gone."
Ford is also calling on the government to reopen Windsor Park, the home of his camp. He noted that he only moved to Columbus Primary because Windsor Park was closed for renovations.
But with it adjacent to his family home on Windsor Lane, Ford said they are able to better manage the equipment that they leave on the park overnight.