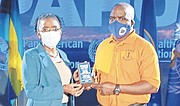 By BRENT STUBBS
Senior Sports Reporter
bstubbs@tribunemedia.net
SINCE the outbreak of the coronavirus pandemic in 2020, there's been so much said about the services offered by frontline medical personnel in the fight against the spread of the decease and the preventative measures to help save lives.
Basketball referee and softball player George Burrows, an Emergency Medical Technician (EMT), is one of those unsung heroes who has gone beyond the call of duty to assist in the fight against COVID-19.
Last Friday, he accepted an award on behalf of the EMT team headed by Dr Alvery Hanna.
The award was presented at the Bahama Journal office as a part of the celebrations of the International Year of the Health Care Worker by PAHO and the World Health Organization.
As one who put his life on the line every day to assist to those in need, the 59-year-old Burrows said he's grateful that when he found he had COVID-19 last year, he was able to survive the disease that continues to take so many lives on a daily basis.
"Last year this tine, I was in South Beach clinic on death bed.
"I couldn't walk from one bed to the next," said Burrows, who contracted the decease on October 13 and left hospital on October 27 and had to spend an additional 21 days in isolation at home.
"I got it on the job when I was working. Thank God I didn't get it this time because how it going now, I probably wouldn't be here to tell my story. This variance takes you out quicker than any other that we've seen since this outbreak."
For the past 29 years, Burrows has been a part of the team that provide pre hospital care, including psychiatric services, before delivering patients to the hospitals for medical observation.
TOP PHOTO: George Burrows accepts the award.
RIGHT: George suited up with a colleague in his role as an Emergency Medical Technician.