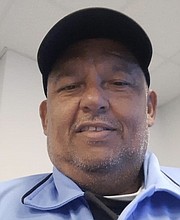 By BRENT STUBBS
Senior SPORTS REPORTER
bstubbs@tribunemedia.net
Internationally certified umpire Martin "Pork" Burrows has his bags packed and is eager to head off to officiate at another prestigious tournament.
On Wednesday, Burrows will head off to Palm Beach, Florida to join the officiating crew for his first appearance at the fifth annual World Comes to the Palm Beaches International Baseball Tournament.
The tournament, scheduled for teams in the 12-and-under. 15-and-under, 18-and-under and open divisions, will be played from October 27-31 at the FITTEAM Ballpark of the Palm Beaches, which is considered the best baseball facility on planet earth.
The Bahamas is expected to be a part of the countries participating. The others are Argentina, Aruba, Australia, Belize, Bolivia. Bonaire. Canada, Cayman Islands, China, Colombia, Dominican Republic, Estonia, Guatemala, India, Ireland, Italy, Jamaica, Lithuania, Mexico. Nigeria, Panama, Peru, Philippines, Puerto Rico, Russia, Spain, Team Earth, USA, US Virgin Islands and Venezuela.
After securing his college certification in March, 2020 in West Palm Beach, Burrows said the door has been opened for him by Mario Signorello to come over and officiate.
"It gives you a good feeling when you know that all of your hard work is now paying off," said Burrows, who will be officiating in his third international tournament since his certification.
"With all of the different countries participating, it's so good to see that people want you to be a part of that. It's a good feeling. So to get back over there and to umpire with some good officials is a great feeling."
Although he has officiated at a number of softball tournaments in Florida, Burrows said this will be his first baseball with the huge number of countries participating in it.
"It's going to be a plus for me," Burrows said. "I know Geron Sands will be putting in a team from the Bahamas in the under-16 division, so I'm excited to see how well they play and hope that I can officiate a game with them in it.
"I don't know the schedule yet, but when you go over there to officiate, they don't worry which team is playing. If they put you on field two and your country is playing, you have to officiate the game."
As an umpire, Burrows said he's been taught to officiate in an impartial manner, regardless of who is participating.
"You have to learn to call the game right the first time. You can't worry about players," he insisted. "Very seldom if you call the game right will you get yourself in any problems and people will respect you more for that."
When he got the call last Tuesday to come to Florida to officiate in the tournament, Burrows said he felt the "goose bumps" because he realised that "someone out there respects your calling and wants you to be a part of something like this. It's a great feeling."
Now training a core of umpires to follow in his footsteps, Burrows said he told his class on Thursday after he got the call that his position is the one that they should all strive to be in.
"You want people to be giving you a call to invite you to be a part of their tournament," Burrows said. "You have to work hard. You have to get certified and once you do and you work hard, people will see you. They will want you."
Burrows said he anticipates that there will be a number of international certified officials who will be joining him so he's looking forward to interacting with them and learning as much as he can in the process.
"It's always good to work with other umpires from different countries, talk to them and learn different things from them. But the game doesn't change. It's the same game. But I'm up to the challenge."
Known as a mini Arthur 'Ole Art' Thompson, one of the most respected umpires in the region up to the time of his death, Burrows said he's thankful to Eddie Ford for the guidance and advice that he shared with him from time to time.
"When me, Andrew (Burrows) and Duckie J (Dereck Christie) went to Puerto Rico for a course, Eddie Ford was instrumental in getting us ready," Burrows said.
"He stepped up to the plate to work with us, so kudos to him.
"He's always one who I could go back to, even with the interpretation of the rules when I'm not sure about something. So big kudos to Eddie Ford because he's been there to help out as much as he can."
As a result of the confidence placed in him, Burrows said he just wants to go out and make the 242 proud.