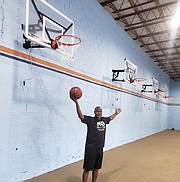 By BRENT STUBBS
Senior SPORTS REPORTER
bstubbs@tribunemedia.net
IT'S called "The Lab," where coach and mentor Marvin Hen eld has created his home for the Marvin Hen eld Basketball Shooting Academy for basketball players who have been marginalised because of their shooting abilities.
Henfield, who has hosted a series of basketball camps and coached a number of local and international basketball players, will provide an open house for "The Lab" on Saturday between the hours of noon and 2pm.
"The Lab" is located at No.83 Thompson Boulevard at the rear of Jones Communications in warehouse No.3, formerly the Caribbean Bottling Company's factory for Coca-Cola.
With a gift for teaching and a passion for basketball, Henfield said he was able to blend the two together to come up with the right ingredient to pursue this dream through the Caribbean Sports Academy (CSA) and his International Youth Education and Sports Foundation (IYES). "I have the gift of taking anything and putting it in steps and I'm passionate about shooting," he said. "For 33 years I was basically trying to figure out how to teach basketball. I did it for 20 years for myself and the last 13 years for the kids.
"But it wasn't until this pandemic hit in April this year, all those years of studying late nights and trying to figure out how to teach this methodology that I was basically able to get a divine revelation from God when I was fasting and praying where he allowed me to see the vision and the wisdom in what I need to do."
What he figured out was what he was teaching in three months, he can now do it in three sessions.
And coming from a spot where he could have easily been despondent when he first learned about the game of basketball as a seventh grader at RM Bailey High School, Hen eld said he can better comprehend to the targeted players he's trying to instruct in this new venture.
"At age 11 when I went to RM Bailey, I didn't have any family member who participated in sports," Hen eld said. "Although the (late) great (Charles) Chuck Mackey was there as the head coach, no one took the time or interest to invest in me.
"I was one of those kids who didn't have any chance in basketball because I didn't know anything. So this is about targeting those kids who are on the bench that probably won't get a chance to play and those kids who have no chance in basketball, but are passionate about the game."
During the open house, persons will get a chance to view the new facilities for those involved in the CSA, who were deprived of getting together to train because of the restrictions imposed by COVID-19.
"We want them to see this next step in this evolution in terms of the space where we will do our training and the next step we will take as a country where we will provide indoor training for our kids," he said.
"In the first instance, the training is individualised, which simply means that where we have put your six goals and we will put up the next five, which will give us 11, so the kids can go to one goal with one basketball at a time where they can rotate for a hour."
Once the COVID-19 restrictions subside, Henfield said they will resume their group training, but for now, it will be one skill training and that is shooting for all persons involved.
In November, Hen eld hopes to have "The Lab" fully operational for players ages 14-16, who are either bench warmers and don't get any playing time and those who are passionate about basketball, but don't have any chance of playing. That's what I'm passionate about and what I love," he stated.
Additionally, Henfield intends to create a strength training environment, as well as a student lounge for the players to complete their homework before or after their training session and a snack lounge to get something to eat.
"This is a start for us. But I do envision that in about six months we will outgrow this facility and we have our eyes on a next facility that we expect to be in by June next year," he said.
"This is our beginning, but this is not the end.
"So I would say to the Bahamas, stay tuned and watch us grow as we continue to make life change for those young, marginalised young players."
Interested persons can visit the website at www. mhbshootingacademy. com and on social media using the same handle mhbshootingacademy or marvinjhenfield on Instagram where they can view the job that Henfield has done in training over 15,000 players, particularly in developing their shooting skills.
"This is not basketball general full house. This is one course skills that we are doing in this first initiation which is basketball shooting and developing that core."
The facility also has three half courts, which Henfield hopes to utilise for the popular three-on-three basketball competition which was introduced to the Tokyo 2020 Olympic Games this year.
"When this COVID-19 thing is done, we would be able to expand upon the new phenomenon that is happening in basketball with three-on-three competition," he said.
"We intend to be able to offer our three-on-three league, which would extend beyond the youth in going to our broader society to corporate Bahamas with the competitive and recreational league, our 45-plus league for men and our women's 30-and-over league and even our youth league competition."
With all that going on, Henfield said they will have the opportunity to provide a full garment of programming at the facility, but they want to be able to first get their shooting skills programme off the ground.