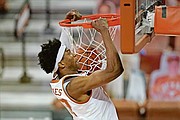 By RENALDO DORSETT
Tribune Sports Reporter
rdorsett@tribunemedia.net
KAI Jones' youthful exuberance was one of the highlights of Charlotte Hornets' media day.
Jones expressed his interest in participating in February's Slam Dunk Contest at NBA All-Star Weekend and shared his story of requesting the No.23, the iconic jersey number of Hornets principal owner and chairman - Michael Jordan.
The rookie forward said the staff was a bit confused at his initial request but Jordan eventually gave the co-sign.
"When I first got here I was like '23,' and everybody was like 'ummm, let...just give us a second' it was kind of like a 'wait until ummm...' So I got here, they asked him and it was all cool, but at first when I said I was going to wear the number they were like 'just give it a second' but everything was clear," Jones said.
"I met him for the first time in Miami, that was crazy. Definitely could tell you were in the presence of greatness though. What he's done with this game is special. Greatest ever. It was dope."
In the Las Vegas Summer League, Jones averaged 9.8 points and 9.4 rebounds in 28.1 minutes per game.
In the finale, he finished just shy of his second double double in the five-game run with a team high 16 points and nine rebounds in a 99-74 loss to the Chicago Bulls.
In his debut, Jones finished with 10 points, 10 rebounds, two assists and a blocked shot in his team's 93-86 loss to the Portland Trailblazers. He also added nine points and a team high 16 rebounds in the Hornets' 80-79 loss to the Toronto Raptors.
On what he learned in the Summer League, Jones said: You can't dunk everything" and laughed before adding "I'm going to try to dunk everything."
Jones was selected No. 19 overall by the New York Knicks but his rights were traded to the Hornets for a future first round pick in the 2021 NBA Draft in June at the Barclays Center in Brooklyn, New York.
Hornets General Manager, Mitch Kupchak, said the trade with the Knicks hinged solely on Jones' availability at pick 19.
"I think it just speaks to how they feel about me as an organisation, the type of player that they know that I could become and what I am right now. I think it speaks to their belief in me and how excited they are for my future," Jones said, "I think my biggest strength is my versatility, my ability to impact the game all around and some things I would continue to work on are my consistency and my shooting. Just building good habits on my shot so I can be a knockdown shooter in the NBA."
A 6'11" 225 pound player versatile enough to play all three frontcourt positions, is already looking ahead to his new NBA home in Charlotte, led by reigning rookie of the year, point guard LaMelo Ball.
The Hornets finished last season 33-39, 10th place in the Eastern Conference, an improvement on their 23-42 finish in the previous season.
"It's perfect timing. This team is on the rise and us coming in as two young exciting guys adds to that. They have players like LaMelo who can really pass the ball and they like to run so - I love running, I know James loves running too so it's going to be showtime, I'm excited."
In his sophomore season with the Texas Longhorns, Jones averaged 8.8 points and 4.9 rebounds per game. He shot 57 percent from the field and 39 percent from three point range. His standout season was recognised by the Big 12 and he was named the conference's Sixth Man of the Year.
During the draft process, the Hornets were the only team to invite Jones for a second workout and interview.
The Hornets will open the regular season at home when they host the Indiana Pacers on October 20 at Spectrum Center.
They finished last season 33-39, 10th place in the Eastern Conference, an improvement on their 23-42 finish in the previous season.
Charlotte will have four nationally televised games this season, up from three last year. They will also be featured in four games broadcast on NBA TV.