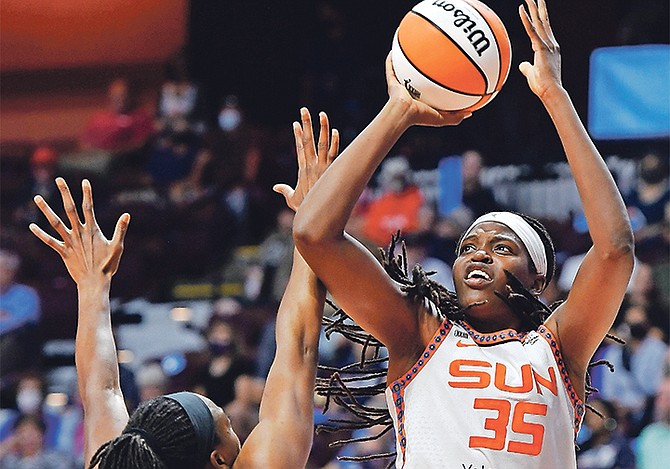 By RENALDO DORSETT
Tribune Sports Reporter
rdorsett@tribunemedia.net
Jonquel Jones continues to relish in her historic achievement of claiming the WNBA's Most Valuable Player award but is also using her time in the spotlight to highlight the continued lack of development in sports at a national level.
Appearing on the 10th Year Seniors Podcast, Jones said the current generation of young professional basketball players, highlighted by her accolade-filled 2021 season and the trio of Bahamians in the NBA - Chavano Buddy Hield, Deandre Ayton and Kai Jones - have succeeded despite the lack of a proper feeder system.
"I'm proud of it, I'm proud to be a part of it, but I want it to get to the point where a Bahamian can stay home and do it," Jones said. "I'm waiting for the government or the powers that be, somebody, to just say 'basketball is great in The Bahamas,' let's invest and develop that. At the same time it's not just basketball, but sports in general. We have so much raw talent. There's no way we should not have a Bahamas Basketball Academy. There's no way we should have IMG Academy right across the water and we don't have a facility like that. We should be able to have Bahamian basketball players, and again sports in general, have a place where they can train year round, really hone their craft, and stay home. They should be able to take the next step without having to leave their families and do the things that we did."
With a résumé that includes the WNBA Most Improved Player (2017) and Sixth Player of the Year (2018) award, Jones said her greatest role is as an inspiration to a younger generation.
"While I'm happy with how my career is going I always sit back and think 'I'm not really doing enough for the next generation,'" Jones said.
"I see Bahamians doing it in sports all over but everytime you see those stories it's people who had to leave home at a very young age as opposed to getting that help and being able to stay at home."
In June, Jones took a brief hiatus from the Sun to lead Bosnia and Herzegovina at the 38th FIBA's Women's Eurobasket Championships. The Sun went 2-3 without her in the lineup, but Jones said the experience leading the country to historic success changed her perspective and outlook on her ability to dominate in the WNBA.
"You go out there and say I'm about to play, I'm about to give my all no matter what, you do it and it feels so seamless, it feels very effortless and it just feels like you through and through. I think having those games there took me to the next level," she said.
"I was already confident in the WNBA. I was already putting up the numbers and starting off the season well. But to be able to take that against another group of women, another league, essentially another style of play and see my game thrive it just gave me an added boost of confidence and I started to think it was really me against me. Once I came out with the right mindset it would be tough to stop me."
Jones received 48 of 49 first-place votes and 487 total points from a national panel of sportswriters and broadcasters to win the league's MVP.
In her fifth WNBA season, Jones averaged 19.4 points, 11.2 rebounds, 2.8 assists, 1.26 blocked shots, and 1.26 steals in 31.7 minutes in 27 games.
The 6' 6" forward led the WNBA in rebounding and defensive rebounding (8.7 per game) and ranked fourth in scoring and 10th in blocks. Her efficiency rating of 25.4 was second only to Brittney Griner of the Phoenix Mercury (26.0).
Jones, 27, won the WNBA Peak Performer Award as the league's top rebounder for the third time in five seasons. She also led the WNBA in rebounding in 2017 and 2019.
Behind Jones, the Sun posted the highest winning percentage in franchise history (.813) and finished the regular season with 14 consecutive victories for the fourth-longest winning streak in WNBA history. Connecticut also earned the league's best record (26-6) and the No. 1 seed in the WNBA Playoffs 2021 presented by Google.
Jones scored at least 20 points in 12 of 27 games, including a career-high 31 points vs. New York Liberty on June 5 and again at Washington on August 31. She also grabbed a career-best 17 rebounds at New York on July 11.
Jones finished the season with 18 double-doubles (points-rebounds). She was named the WNBA Eastern Conference Player of the Month for May, August, and September. "It's the work I put in that gave me that confidence and carries over on the court. My teammates back me 100 percent, my coaches back me 100 percent and the organisation backs me 100 percent and that allows me to flourish," Jones said at Tuesday night's award ceremony.
"I think that is what makes an MVP - the work, the opportunity and the combination of everybody being behind you and pushing you to that level of greatness."
Jones said the development of her career has coincided with the growth and development of the franchise. "The most fun part has been watching how this organisation has been morphed into a championship caliber franchise. Me coming in, us not playing the playoffs as a rebuilding franchise that had a lot of work to do, coming in with [head coach Curt Miller] and seeing how he has changed the organisation and made us competitors and contenders every year," she said. "I think that has been the most fun part to be able to say I was here when we really started from the bottom."
Jones and the Sun will look to even the WNBA semifinals when they host the Chicago Sky in game two slated for 8pm tonight at the Mohegan Sun Arena in Uncasville, Connecticut.
"I'm super excited about this MVP," she said, "but I can't really enjoy it until we get that ring."