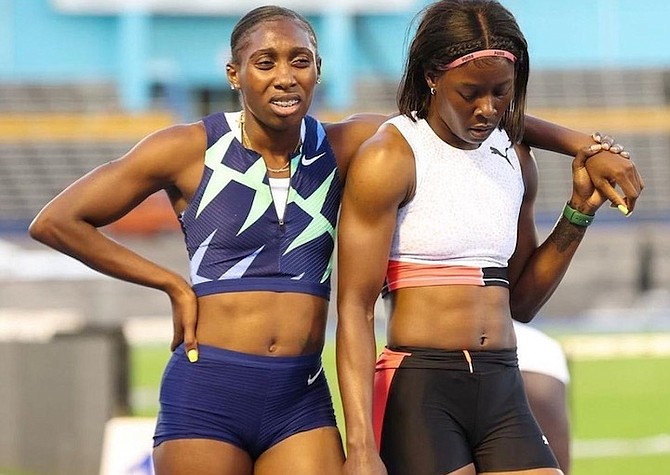 By BRENT STUBBS
Senior Sports Reporter
bstubbs@tribunemedia.net
SPRINTER Anthonique Strachan, coming off an impressive victory in the 100 metres a week ago, came back and posted a third-place finish in the 400m on Saturday in Kingston, Jamaica.
In leading a list of Bahamians competing in various meets overseas over the weekend, Strachan clocked 52.84 seconds at the Velocity Fest 10, World Athletics Continent Tour Challenger Series Meet. She was shy of her PB of 52.42 from 2016.
After running 10.99 in the 100m in her previous meet, Strachan had to settle for third place on Saturday behind Jamaica's Shericka Jackson, who won in 51.29, followed by Candice McLeod in 51.78.
The 28-year-old Strachan, coming off her semifinal in the women's 60m in her World Indoor Championship debut in Belgrade, Serbia last month, continues to excel in her training in the MVP Club, coached by Stevie Francis.
"I feel very satisfied and content with my performances so far this season," said Strachan after the race. "This is my second opener. My first opener was when I did the 10.9 in the 100m and now I did this, which is my fastest opener in the 400m.
"It isn't a PB, but it's a really fast opener for myself. The last time I ran a 400m was in February 2029 when I ran 52.95.
"It's still the beginning of the season, so I'm not really expecting anything right now."
Now, as she prepares for the rest of the season on the road to the World Championships in Eugene, Oregon in July, Strachan said she has some goals in mind, but it's going to be her secret until she achieves them.
Strachan is expected to return to action in her 200m opener at the World Athletics Continental Tour Gold Series in Devonshire, Bermuda on April 9. She's hoping that it will be just as impressive as her opener in both the 100 and 400m.
Florida Relays
Fresh off her initial showing at the World Indoor Championships in Belgrade, Megan Moss opened her outdoor season with a second place finish in the women's 400m at the Percy Beard Track Field in Woodlawn Drive, Gainesville, Florida.
Moss, a sophomore at the University of Kentucky, clocked 53.08 seconds to trail her junior teammate Alexis Holmes, who won the event in 51.94, Doneisha Anderson, a junior at Florida, was eighth overall in 54.32.
In getting in some speed work, Moss went down to the 200m where she was 18th overall in 23.57. Talatha Diggs of Florida won in 22.78 with Karimah Davis of Kentucky placing second in 22.97.
At the end of the meet, Moss ran the opening leg of Kentucky's 4 x 400m relay team that included Abby Steiner, Karimah Davis and Alexis Holmes that won the women's college race in 3:26.99.
Anderson anchored Florida's team of Talitha Diggs, Anna Hall and Sterling Lester, who trailed Florida in second in 3:29.20.,
Also at the meet, Kinard Rolle, competing for the Bahamas, was second in the men's 400m in 47.50. Kameron Jones, unattached, won the event in 46.55.
Houston Alumni Invitational
At the Houston Alumni Invitational, Grand Bahamian Brianne Bethel, competing unattached, won the women's 400m in 55.18.
Her nearest rival was Jackeria Woodkins of Sam Houston in 55.73.
In the women's long jump, Alexis Tilford- Rutherford came in third with 5.96m. Samiyah Samuels won the event with 6.26m.
Tilford-Rutherford also anchored Houston women's 4 x 100m relay team of Naomi Taylor, Cecelia Tamayo-Garza and Jayla Fields to victory in 44.54.