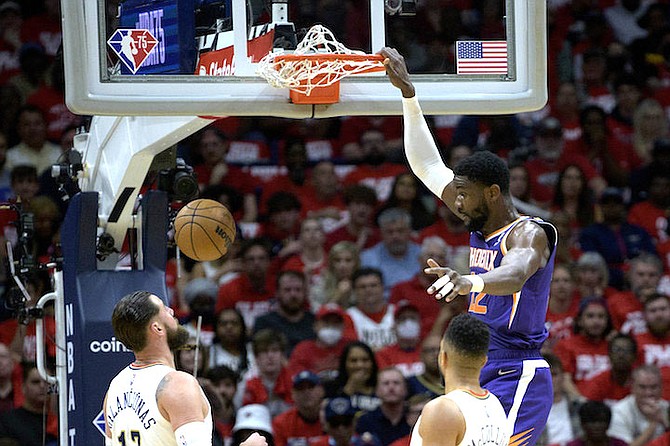 By RENALDO DORSETT
Tribune Sports Reporter
rdorsett@tribunemedia.net
Deandre Ayton and the Phoenix Suns are facing an uphill battle in the midst of a physical first round series against the upset minded New Orleans Pelicans.
Ayton, averaging 20.5 points, 10.8 rebounds and 1.5 blocks per game through four games of the series thus far, said the Pelicans set the tone in Sunday night's 118-103 win at the Smoothie King Center in New Orleans, Louisiana.
A pivotal game five is set for tonight at 10pm local time at the Footprint Center in Phoenix, Arizona.
"They hit first, they played hard, they wanted it more," Ayton said following the Sun's 118-103 loss Sunday night in New Orleans, [We have to] Not worry about the refs and just play basketball, play hard and give those second efforts."
Ayton finished with 23 points (11-14 field goals), eight rebounds, and one block in 33 minutes Sunday but has struggled at times with his matchup against Pelicans veteran Jonas Valancuinas.
Valancuinas finished with 26 points (9-15 field goals, 7-11 free throws), 15 rebounds and four assists over 33 minutes Sunday.
On the series he is averaging 15 points and 16 rebounds per game, highlighted by an 18-point, 25-rebound performance in game one. "He was all over the glass like he was in game one," Ayton said of Valanciunas in game four. "We just have to make sure we handle him and take him out completely."
Ayton has drawn just five total free throw attempts throughout the series and the Suns as a team lost the battle at the charity stripe. The Pelicans held a 42-17 advantage in game four alone and the Suns were called for 12 more fouls.
"We were fouling. The third quarter we were trading baskets and we were fouling. They were aggressive they got to the bonus early and they did what any team would do, they were aggressive and they were getting calls," Ayton said. "With the physicality it just feels like we couldn't do like how we did it in game three with the physicality of the game, it made us let up a little bit on being aggressive and I think that's what got us. We started to figure that out a little bit too late."
The Suns, the No. 1 seed in the Western Conference, now face a No. 8 seed Pelicans team in an even series without leading scorer and MVP candidate Devin Booker.
Booker missed his second consecutive game due to a hamstring injury and is expected to miss the rest of the series.
"I just want my dude to be healthy and ready to go. We trust him, we know he's handling business, we see him handling it everyday. I would just love to be in great shape when he gets out there, super healthy and get this thing back to our norm.
"Until then, nothing has changed, it's the next man up. We're not second guessing anything or any lineups, we're sticking to how we play."
Despite the loss of Booker, Ayton said the Suns' recent playoff experience helps them to remain focused on the task at hand.
"It's very important. Everybody making up stuff on how the series will go, we ignore all of that and we stay the course," he said. "It's the playoffs, I mean everybody's good, that's how it's supposed to go," he said. "Play hard and may the best team win. We just got to get back home, get back on our feet and handle our business at home."