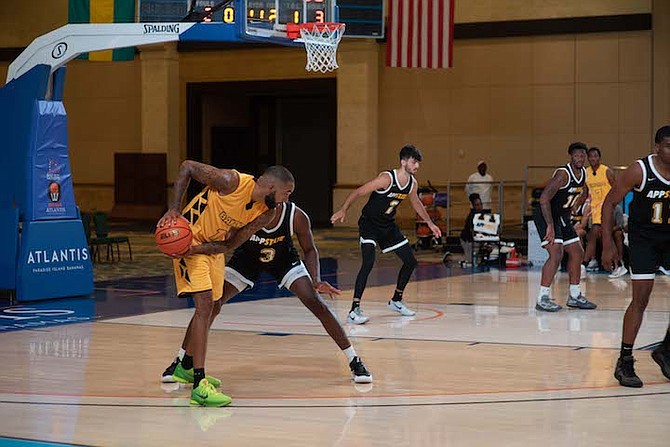 By BRENT STUBBS
Senior Sports Reporter
bstubbs@tribunemedia.net
Head coach Dustin Kerns likes what he saw from his Appalachian State University Mountaineers men's basketball team in their 46-point rout over the Bahamas Select Team yesterday at the Summer of Thunder in the Imperial Ballroom of the Atlantis resort on Paradise Island.
The Mountaineers, with a balanced scoring attack with five players scoring in double figures, took advantage of the Bahamas Select Team 111-65 in one of two games played.
The other game saw the Fordham University knock off the House of Hoops 92-58.
"We played well. It's an honour to be down here in the Bahamas and to have our players experience this great culture," Kerns said. "It's been a great experience."
Kerns, however, admitted that the outcome of the games was not what he anticipated.
"We expected them to play a lot harder, but we realised that they were short-handed" he said. "We played well. We did a lot of good things, so we have a lot of good things to build on."
After a close encounter in the first quarter in which the Mountaineers came from a slow 6-0 start, they took a 19-10 margin at the end of the break. They slowly pulled away, cruising to a 44-30 advantage at the half. But coming out of the locker room, the Mountaineers managed to go on a scoring spree in the third quarter as they mixed it up with their inside and outside game to surge ahead 80-45 at the end of the final break.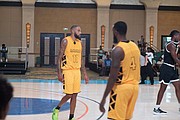 From there, Appalachian State continued to apply the pressure as they dominated in the paint, controlling both the offensive and defensive rebounds, to maintain their sizeable lead over the local team.
Zocko Littleton Jr, a 6-foot, 3-inch guard, canned a side high 14 points with four steals, two rebounds and two assists, while both Michael Eas Jr, a 6-4 guard, and Terance Harcum, another 6-3 guard, had 11 points each. Tamell Pearson, a 6-10 forward and Donovan Gregory, a 6-5 forward, added 10 points apiece.
For the Bahamas Select Team, coached by John Nutt, Joshua Dames exploded for a game high 24 points with three rebounds, two assists and a steal. Keno Burrows was the only other player in double figures with 20 points, five rebounds and three assists.
Kadeem Coleby chipped in with eight points and six rebounds and Demari Thompson finished with seven points and three rebounds. Jacob Jackson had just four points, five rebounds, four assists and a steal.
Burrows, who came to coach the team as he did with his Raw Talent Elite, who won the first game of the tournament by one point over the University of South Alabama, said when he realised how short-handed the team was, he decided to play.
"It was a good one today because we had to use some 25 and 16-year-old players, who got some good exposure against a high level division one team," he said. "So I feel great coming out here and just showing some leadership and encouraging the young fellows at this level."
In stressing to the players to always put their best foot forward, Burrows said you never know who is in the gym because it could be the next scholarship or coaching job, so they should always be prepared to play their best.
Nutt, a member of the Bahamas national team management staff, said the whole idea was to get the players some playing time - win, lose or draw. He said once they realised that they didn't have all of the firepower needed, they knew it would have been a difficult task against the Mountaineers.
"It's pretty tough when you don't have all of your players show up," he said. "It's difficult to get people to come out at 4pm to prepare for a game at 5pm because they are working. But we still tried to put in a good showing with what we had."
Nutt, however, said the Bahamas Basketball Federation is using the games played so far to determine who will be the best 12 players to assemble to play against the University of Kentucky Wildcats in the finale at Baha Mar at noon Sunday on ESPN. "I believe that with the group of players that we have, we have seen enough to pick the best 12 that we can to play against Kentucky on Sunday," he said. "Hopefully we will be able to put in a very good showing in that game."
The Wildcats, coached by John Calipari, played against the Mexican Pro Team last night after they opened up against the Dominican Republic men's national team on Wednesday. They are scheduled to play Carleton University at 6pm on Saturday before they close out their trip here against the Bahamas Select Team on Sunday.