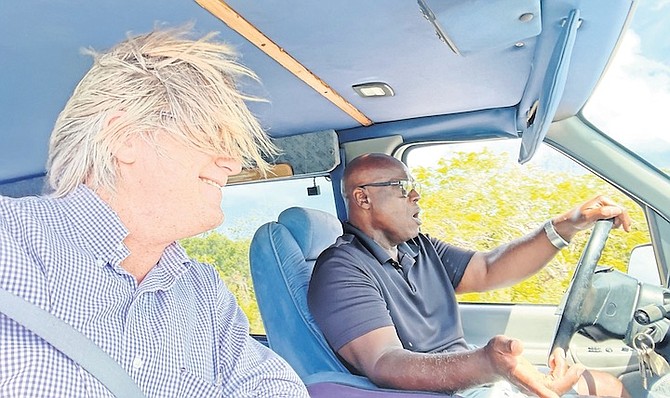 By ERIC WIBERG
Found them.
As extraordinary as it is, it's really that simple. The first WW2fWWII airplane I found home in Cable Beach took me 35 years. I gave the parts to the AMMC and arranged a reunion for the deceased pilots on the site this October. In July, you may have read the first of a number of articles for The Tribune outlining other WW2 air wrecks in Acklins and adjacent Castle Island. I vaguely planned to follow up on trying to find these planes for TV or a documentary. But then the list of accidents grew to 165 and it was too much to digest and afford.
Then last week I boarded a Bahamas Air flight to Spring Point, Acklins, for the first time in 22 years. Why? Well, Rev. Newton Williamson is one of the last first-hand witnesses to WW2 U-boat torpedo survivors that I know (Long Island and New Providence have them too), and a historian always prefers sources. Also, I had three Acklins Island loose ends outlined in the July 4 Tribune article:
1) Who was the American widow mourning?
2) Where is the plane said to have crashed on Castle Island near southeast Acklins under Captain Liddy?
And 3) what ever happened to the plane under Lt Hunt from which four US Air Force crew parachuted weeks after Liddy?
If I had time in just three-to-four nights I also wanted to interview Rev Williamson, photograph the places shipwrecked sailors ate, rested and were buried in 1942 and 1943, and just enjoy returning to beloved Acklins, home of the hardiest folks I know.
I was met on the flight by my indefatigable host, Rev Felton Rolle, owner of Salina Point Bonefish Lodge where, due to his dexterity, I was to double the length of my stay. I relied upon him for everything, transport, guides, food.
What happened in those few days was extraordinary, since I covered some 1,000 miles by plane (600 miles), car (300 miles on Acklins, 50 on New Providence), 35 by foot in 'the bush': 15 solo and 20 with guides, 30 miles by boat (to Castle Island and back to Acklins), and two miles swimming; the 17 hours on a mailboat don't count since the thing didn't move an inch that entire time!
Capt Kendres Williams and I left at dawn in his Boston Whaler into rain storms, and over water so deep flying fish leapt. With precision we nudged into rocky Mundian Harbour (lighthouse keeper Jeffrey Forbes pronounces it "moojian"), and offloaded a kayak, hundreds of feet of line, a cooler of food, mask and fins, and enough supplies to last three days. I'd been up much of the night before confirming my hunch, that the plane piloted by Liddy which was abandoned on Castle Island and not been found since, must have sunk into the biggest lake on the island, which is little more than two miles long and half a mile wide and uninhabited, the light inoperative.
Ken and I felt our way from the bay over the berm into a small valley, trying to find the lake. After less than five minutes I suggested we take a right turn to hit the east end of the lake and when I looked up the quiet captain was already walking on – yes on – the "lake," which turned out to be a salt flat just an inch deep. There, in the middle, was the engine of the Douglas A-20B 'Boston' Havoc which had landed audaciously when his engine flamed out and died, he circled Castle Island five times, told the others to eject but they refused, the front landing gear collapsed, ejecting Navigator Murray White and trapping his right leg under the wheel, from which his comrades extricated him. They were rescued by a sub chaser, the wreckage sighted repeatedly from the air over the years until the plane gradually sank into the salt brine, where it remains, essentially pickled.
Flamingos use the protruding radial engine to nest on. There is no doubt this is precisely that aircraft, which was bound for Stalin and the USSR, and we found it in five minutes!
Then all plans were put on hold: a large bomber was said to have crashed on LAND very near to my hotel! Felton made urgent calls, we visited elderly locals in Pompey Bay and experts at bush tracking in Delectable Bay. The next three days are a blur of 35 miles of walking: Day 1; Stanford Tynes, Iris Tynes, and Loftus A Roker all confirmed the details, as did Rev Rufus Forbes, and guides Charles Williams and George. An Air Traffic Controller at Windsor Field said a white man emerged from the bush with a parachute and scared local women. Iris said headmistress Hester Tynes was so alarmed by a B-25 bomber circling the school erratically looking for four lost airmen she told the children to run for their lives, and when smoke was seen towards Portland, the children thought their parents had been killed in the fields.
I walked six miles alone in the bush and Salinas of Portland - six hours and nothing.
The next day, eight hours with Charles guiding, again nothing, I feel asleep in the forest watching a hummingbird and gecko and he had to come get me.
Resigned, I gave up, and boarded the mailboat in Spring Point at 9am. At 2.30am, my captain instincts cut in when I realised the engine had finally started. Without much thought I grabbed my backpack and a little roller duffle with my monogram on it, and marched off the boat as the ramp was being raised. Without pausing to reflect that there was not a soul about, I then walked about eight miles non stop for 4.5 miles and saw that Charles' light was on, so I called him to ask for drinking water, which he shared with me. By 5.30am, the sun was rising and I arrived at Portland, where the plane was said to have crashed. When the fuel transfer system failed the pilot ordered younger sergeants Billy Williams and Ralph Stevens to roll out the bomb bay, and they landed on south Acklins and walked to Salina Point.
But Arnold Stern was not so lucky, he landed two miles out to sea and swam to shore, leaving James Hunt to pilot the plane despite his being weakened by persistent pneumonia. He stabilised the plane, pointed it towards Pompey Bay, flew over the salina, and bailed, pulling the chord 500' under the plane, which nose-dived to earth empty of people deep into the bush. All the men were rescued, first by a seaplane in Pompey Bay, which then took Hunt to the other three where Commission Chancy Tynes, supported by a Constable Forbes and others, mustered the three other men. They were whisked to Exuma then Guantanamo.
End of story? Hardly! I was so fixated on finding my first WW2 land crash site that I was determined to find the plane by breakfast time, emerge from the bush and teach an online course – in the liquor store at Delectable Bay – at 10am. And I did, thanks the divine intervention of Rev Rufus Forbes. He happened to be up early and for the first time in months set out alone to cut cascarilla bark for soaking, beating and selling for Campari. I happened to be stowing my gear in the bush and getting outfitted for an exhausting day in the bush alone when he walked past on the trail, whistling in the dawn darkness! Hark! I begged him to show me the plane; with grace and ease he did, and I thanked him by carrying two loads of his cascarilla branches out of the forest to the road, where Felton was waiting.
What was at the site? Two Pratt & Whitney radial engines, 1,200hp each, at least three machine guns, ammunition which went off when the plane burnt, bomb sites, throttle, wheel assemblies, large camera, fuel transfer pump, bits of fuselage, tanks and much more!
Even the pilot's seat; I know as I had found over 40 pieces of another B-26 Marauder in Cable Beach. Locals were excited by all these finds, and I begged them to preserve the wreck as it is so that we can all visit it, and of course I immediately informed the AMMC.
A larger B-18 bomber had ditched off Acklins at 6.30pm on September 4, 1942; all seven aviators under Lt Richard Ginter were able to escaped the water landing, in which the nose briefly dug into the sea. The men launched rafts and were rowing against an east wind in the rain one mile to south Acklins when the local constable, probably Forbes or Tynes from Salina Point, rowed out to offer assistance. The men had sent a Mayday, the US Navy in Guantanamo sent a flying boat, as well as a destroyer, so after a rough night without cigarettes or insect repellant they were rescued at dawn the next day and taken to Cuba. The radio operator was named George Oakes. Subsequently the destroyer, USS Borie, salvaged what they could from the B-18 in shallow water, and then destroyed what was left.
Rev Williamson reported a widow mourning her American husband at Pinefield in the 1960's: since no servicemen died in the three military crashes on Acklins in WWw I found the likely crash' "the 1965 crash of a United States Air Force Fairchild C-119G Flying Boxcar [with] parts washed up on the northeast shore of Acklins." (Source: Logically.ai, Aug. 12, 2022).
What is more remarkable? A self-funded person re-discovers two WW2 wrecks in four days? I went to Acklins to find planes and ended up trying to emulate the Acklins Islanders for their indubitable toughness, skill, self-reliance and community spirit. Whether sandy soil, rich reefs, ambergris, boats washed up from West Africa, historic planes, bark, or bush medicine, they will make the most of it.
And so did I. Thank you Acklins.