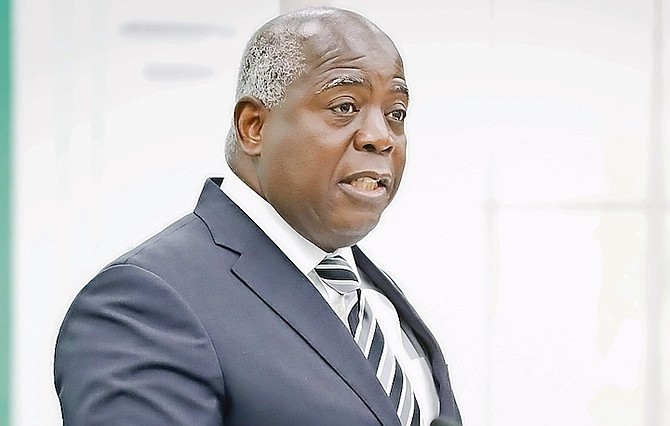 By LYNAIRE MUNNINGS
lmunnings@tribunemedia.net
PRIME Minister Phillip "Brave" Davis says when the country's vaccination rate reaches a "comfortable" level, wearing masks will become voluntary.
With officials working to have more people fully vaccinated, Mr Davis said he was hopeful to have the mandate lifted by the end of the year or sooner.
As it stands, 170,432 people in The Bahamas have been fully vaccinated against the disease since the start of the government's vaccination programme last March.
Last month at the rollout of paediatric vaccines, Prime Minister Davis jokingly told reporters he would hope to drop the mask mandate by next week if another 20,000 persons get vaccinated.
While in Ragged Island on Friday for the commissioning ceremony of a solar micro grid, Mr Davis told reporters that the government is monitoring the vaccination rate, therefore when it reaches a "comfortable" level the mask mandate will become voluntary.
"Well, we are monitoring the vaccination rate and when that reaches a comfortable level for us, we will be making it voluntary for persons to have the option to wear it or not," he said at the time.
"We are working towards that and once we see the vaccination rate at an acceptable and comfortable level as the experts might advise we will move toward what they call voluntary wearing of a mask," he also added.
When asked by reporters if he hoped to achieve this before the end of the year, Mr Davis said: "I am hoping to get there even sooner if possible."
Last month, Health and Wellness Minister Dr Michael Darville said preliminary data suggested vaccine uptake was increasing in the country, despite a noted drop in vaccination rates over the past several months.
"Preliminary reports from our vaccination committees indicated that we are seeing some increased uptake," Dr Darville said at the time. "I'm pleased at what we are seeing at the Mall of Marathon. We're putting together a new site in Grand Bahama."
People aged 12 and older have been eligible for doses and as of late last month, children between the ages of five through 11 are able to receive the Pfizer vaccine.