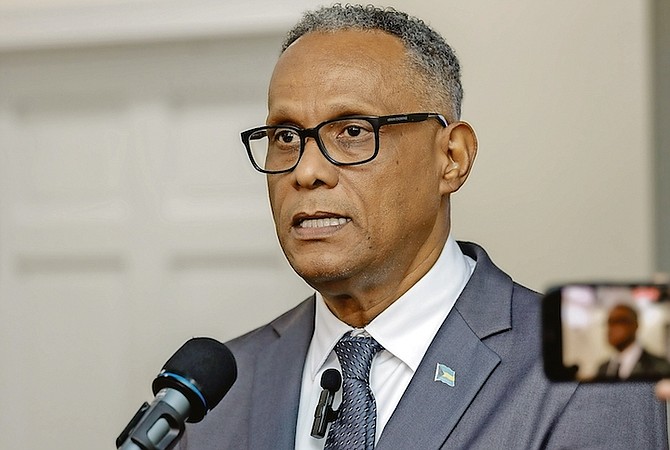 By PAVEL BAILEY
Tribune Staff Reporter
pbailey@tribunemedia.net
HEALTH Minister Dr Michael Darville says clinics around the country should experience much needed renovations by the end of the year or early next year as he continued his nationwide tour of these facilities.
In the wake of Hurricane Dorian Dr Darville said it was realised that many healthcare facilities throughout the Family Islands were not capable of withstanding another catastrophic disaster.
"As the (then) shadow Minister of Health when I was in the Senate we realised there were challenges from Inagua all the way to Grand Bahama," Dr Darville said.
"When Hurricane Dorian came and we had the opportunity to visit Abaco post hurricane we realised that many of the facilities were not up to par, ready for any catastrophic event.
 "Immediately upon becoming minister I began my tour from Inagua and I worked my way up to the northern Bahamas and I realised that much of the needed work to ensure that the patients as well as the staff were (safe was) not in place."
 Minister Darville said that his ministry - in conjunction with the Ministry of Public Works - has been conducting tours throughout the country to assess the state of health clinics.
 He said that upon completion of these assessments and with loans from the International Development Bank (IDB) renovations to the Family Island healthcare system will take place by late 2022 to early 2023.
 "So, I did that tour. I took a team with me to make that assessment when we were with COVID-19 and then secondly to make a determination what would be the strategy in the Ministry of Health and Wellness to get these clinics up and going. Later on a team from the ministry in collaboration with the Ministry of Works began a tour throughout the Family Islands to assess our clinics as part of infrastructural upgrades from two IDB loan facilities," Dr Darville said
 "All of that information is intact and now we are in the hurricane season and so my job now is to basically make sure the clinics are ready, to reward the necessary contracts to get them up to par and to ensure that the preparatory work for the activation of the IDB loans, which will be the later part of this year or early next year would be in place."
 When asked what the short and long term plans of these assessments were and how his ministry plans to address the strains on the out island healthcare system, Minister Darville said that officials were working to address these issues as expediently as possible. He noted that he was hoping to stave off any further degradation to the family island clinics during hurricane season as they await the IDB loan to be processed.
 "Many of the short low lying fruit is quite clear. Some of the clinics are compromised. We have some roof damage, we have issues as it relates to staff shortages, a lot of the challenges we face is with air condition and electrical deficiencies in our clinics and we intend to really address them to prepare so that no further damage will take place at the clinics, so that when the IDB loan facilities for restoration and repairs take place, we will make sure that the assessments are satisfactory and we are able to finish those in a timely fashion."