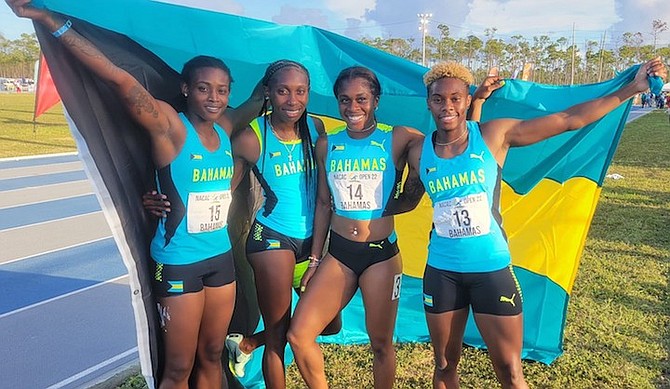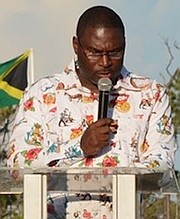 By DENISE MAYCOCK
Tribune Freeport Reporter
dmaycock@tribunemedia.net
FREEPORT, Grand Bahama — Drumeco Archer, president of the Bahamas Association of Athletic Associations (BAAA), was extremely pleased with Team Bahamas' performance at the NACAC Open Championships in Grand Bahama.
Among those highlighted was Grand Bahama's very own Tynia Gaither, who won the silver medal in the women's 200-metre final, clocking a time of 22.35 seconds.
And, Donald Thomas captured the bronze in the men's high jump. Also, the gold medal win by Olympic champion Shaunae Miller-Uibo, who set a new NACAC record in the women's final of the 400m.
"I am happy, I have seen improvements across the entire spectrum of our programme at every international event we have gone to and we have been increasing the medal count," Archer said on the final day of competition at the Grand Bahama Sports Complex on Sunday.
"Today, we had Tynia, in addition to Donald Thomas - the ageless wonder - getting a bronze medal in the high jump. Then, we had Devynne Charlton placing second in the 100 metres hurdles and we also had the incredible Shaunae Miller-Uibo winning a gold medal, and then we came back with Tynia Gaither running a personal best of 22.35 and getting the silver medal - you couldn't ask for more than that with Team Bahamas."
"I think the championships went pretty well when you look at the quality of performances and the quality of athletes that have participated at these games, he said. I don't know if we could have expected more.
"GB is elated. This is really a stimulus for them in terms of track and field, but also an economic boom," Archer added. Archer stated that they are happy about having the event in Grand Bahama. "I think by all accounts everybody seems very satisfied, he said.
The event attracted 400 athletes from North America, Central America and the Caribbean. He thanked Mike Sands, president of the NACAC, for bringing the event to the Bahamas, particularly Grand Bahama.
Sands took ill while attending the event and is under observation.
"President Sands is convalescing. He is under observance," Archer said.
"I have spoken with him. He is in great spirits, and he says he feels great."
Conditions were very hot over the three days of competition.
"It was incredibly hot, and I think it took its toll on many athletes," Archer said. "But, it cooled down on the final day of competition and you could not complain anymore about the heat."
When organising the schedule, he explained that the technical director would have considered the question of light conditions in time for the event.
"And out of an abundance of caution, we decided in the event that lamps were not installed at the time of the event, then at least, we would have full daylight for the event."
"Well, we got full light and a wonderful facility for nighttime competition. Unfortunately, it was too late to change the schedule," he stated.
Archer is confident that other events would be held in Grand Bahama.
He noted that whether government or privately funded, they will push and continue to market the Bahamas as a track and field and tourist destination. "Our push and mandate is to create more content for track and field in the Bahamas, both in GB and NP," Archer said.
He thanked the entire organising committee for doing such a huge job in executing and pulling off the event and delivering a world-class competition.
"I want to say a special thanks to Chevonia McBride and Perez Cooper who were co-chair persons for the event, and Norris Bain, deputy managing director, and others, including Deon Britton (hotel accommodations); Dr Cecil Thompson (transportation); Sophia Higgs (volunteer section); Laura Pratt Charlton, (competition manager) supported by her husband David Charlton (the competition director). General-Secretary Keith Joseph and Mabelene Miller CEO for BAAA (responsibility for accreditation)," Archer summed up.