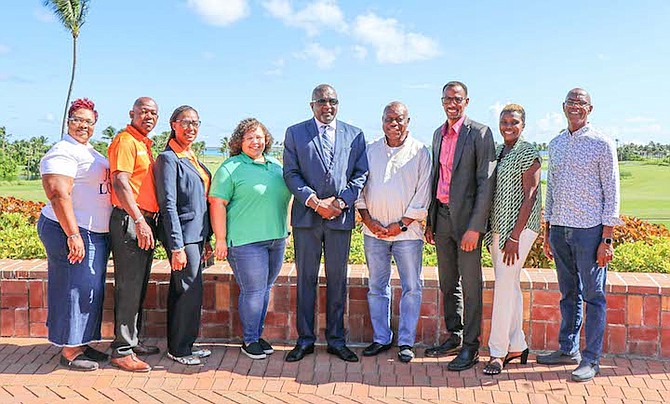 By BRENT STUBBS
Senior Sports Reporter
bstubbs@tribunemedia.net
WITH the demand increasing on a daily basis for those in need for food, the Bahamas Feeding Network is making an extra effort to raise at least $100,000 to be able to assist as much as they can by hosting its inaugural Golf Tournament on Sunday, September 25 at the Ocean Club Golf Club.
A press conference was held yesterday at the Paradise Island complex where Minister of Youth, Sports and Culture Mario Bowleg, along with principal sponsors Fidelity Bank, endorsed the event alongside the organisers from Better Homes and Gardens Real Estate and members of the Bahamas Feeding Network.
In his absence, Mario Carey, the chief executive officer of Better Homes & Gardens Real Estate, said the idea for the tournament is to raise more funds for the Bahamas Feeding Network and to bring more awareness to the public through events like this to try to eradicate hunger in the Bahamas.
"We have a real problem here about feeding," said Carey in a video presentation. "With the cost of living, the cost of food and the idea that children, mothers and families and the elderly can go daily without a meal is not something that we seem to be aware of, but the hard work that we do, make sure that every dollar that comes in is adequately spent towards feeding people."
As a director, Carey said he wanted to find ways to assist the Bahamas Feeding Network and one idea that came to mind right away was the golf tournament. He noted that they are still seeking the support from corporate Bahamas to come on board and make their financial contribution to the programme.
Felix Stubbs, the chairman of the Bahamas Feeding Network since its inception in 2013, said their organisation supports a total of 98 feeding programmes and they are expecting that number to soar to 101 in the next few weeks as they assist in feeding people across the country.
"We serve now about 70,000 meals a month and in that, we find that we can't reach all of the people who are in need," Stubbs said. "In order to continue to meet this need, we need to find additional resources and so I would like to thank all of our supporters who have been with us from day one financially, morally and spiritually.
"But in addition to that, we need to have additional funding, so we've looking at this golf tournament. In this tournament, we're hoping to raise as much as $100,000 and if we could raise that money, that would mean a few thousand additional meals and families who could go without hunger."
Stubbs thanked Fidelity for coming on board as their title sponsor and will be willing to assist them each year. But this year's initial tournament is expected to attract about 124 golfers in a two-man scramble at a cost of $500 per team. There are a number of prizes, some of which is being solicited by Fred Paul, who next year will be the president of the United States Golf Association.
A new Mercedes car provided by Tyreflex will be offered for the hole-in-one shot on the 12th hole and there are two seven-day cruises, one to Alaska and another in the Mediterranean, both provided by Royal Caribbean International, for the winning teams.
There will also be raffle prizes for the public with the top prize being golf at Albany with a celebrity golfer. Additionally, Jason McDowall of Bahamas Local.com will conduct a silent auction with the top prize being a sportsman's weekend to Dallas for four people with two rounds of golf and a suite to watch a Dallas Cowboys football game, valued at $12,000.
Crestwell Gardiner, the vice president of retail at Fidelity Bank, said they have always been committed to physical and financial fitness. "We understand that the needs are great now during this challenging time for most Bahamians," he said. "We know the programme, we know the people and we know the need, so Fidelity is here."
Bowleg, noting the importance sports plays in the development of the nation, said the beneficiaries of the tournament will not go to bed fantasizing about the facilities at Ocean Club, but rather their child or children going to bed having had a proper hot meal.
"The Government of the Bahamas and other organisers such as the Bahamas Feeding Network are working hard to bring relief to people, who through no fault of their own, fall through the cracks," he said.
"I applaud the Bahamas Feeding Network through the chairmanship of Felix Stubbs for their incredible work. The food parcels you pack every week and distribute now to nearly 100 churches, soup kitchens and feeding centres. I commend you for providing over two million since your start-up in 2013. You have come a very long way since the first gathering with the handful of churches and of soup kitchens. You have lived up to the promise that seemed so ambitious at the time and now I'm told that you are doing 70,000 a month."
He also commended Carey for the role he's playing in leading the charge for the tournament and he confirmed the government's commitment to helping to support the event and to help eradicate the need for food hunger in the Bahamas.
Bowleg was joined by Tim Munnings, the director of sports in the Ministry of Youth, Sports and Culture, "Golden Girl" Pauline Davis, a consultant at the ministry, Rev Father James Palacious, the new director of the Bahamas Feeding Network and Ashley Bethel, who represented Better Homes & Gardens.
Entry forms for the tournament are available on the Bahamas Feeding Network's website and on Better Homes and Gardens MCR Bahamas Facebook page.