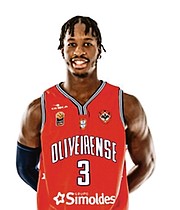 By RENALDO DORSETT
Tribune Sports Reporter
rdorsett@tribunemedia.net
TRAVIS Munnings and Sporting Lisboa Benfica have been eliminated from FIBA EuroCup playoff contention but remain strong contenders locally in Portugal's Liga Portuguesa de Basquetebol (LPB).
Munnings finished with a team high 19 points and eight rebounds, but Benfica dropped a crucial result Sunday, 89-72 to Sporting CP. With the loss, they fell to 2-4 in Group K, while Sporting CP (4-1) and CSM CSU Oradea (4-1) clinched spots in the EuroCup quarterfinals.
In 14 EuroCup games, Munnings has averaged 8.7 points and 4.6 rebounds per game. Locally in Portugal, Munnings is averaging 8.1 points, 5.4 rebounds and 3.5 assists per game, shooting 54 percent from the field and 47 percent from three-point range.
He posted his first double double of the season with 13 points and 10 rebounds in a dominant 86-64 win over Ovarense. It was the 11th straight win for Benfica and they improved to 15-2, second in the league behind Sporting CP. He has reached double figure scoring in six games this season, highlighted by a season high 18 points and eight rebounds against his former club UD Oliveirnese. He also scored 17 against Lusitania and 15 against Academica.
Munnings is currently in his second season in the LPB. Last year he averaged 12.5 points, 8.1 rebounds, and 3.3 assists per game for UD Oliveirense. Benfica eliminated UD Oliveirense in the quarterfinals of last season's playoffs. The versatile 6'7" forward played for the Golden State Warriors in the NBA's Las Vegas Summer League. In his best performance in Las Vegas, he scored eight points on 2-3 shooting from beyond the arc in an 80-79 overtime loss to the New Orleans Pelicans.