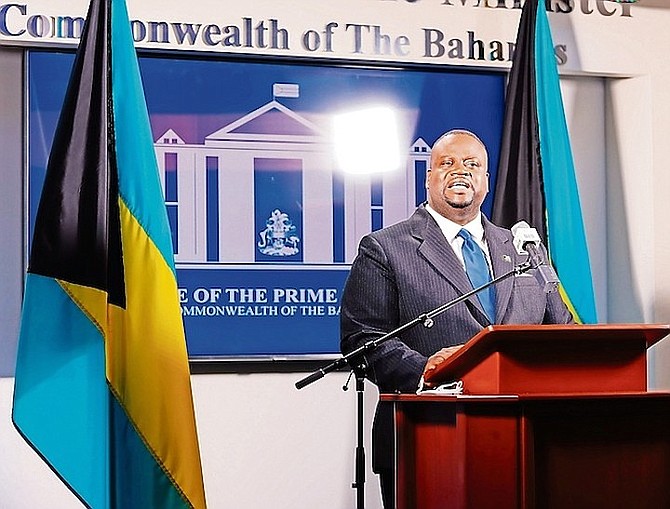 By LEANDRA ROLLE
Tribune Staff Reporter
lrolle@tribunemedia.net
PRESS Secretary Clint Watson issued another appeal for Bahamians to get vaccinated yesterday, saying unvaccinated residents must not come to the false conclusion that the pandemic is over now that cases are declining.
Mr Watson spoke after the United States government delivered 32,400 Pfizer doses to the country on Wednesday, representing its third shipment of the brand since the start of the nation's vaccination programme.
This comes as the country's vaccination rates appear to be declining. In a push to get more Bahamians vaccinated, Mr Watson said the government is hoping to have private healthcare facilities administer the doses very soon.
"We're around the 46 percent (mark) right now as far as it comes to vaccinations. For those of you who may not know and we want to get about, I think the international standard is about 70 percent," Mr Watson said at the Office of the Prime Minister yesterday. "And I think what you find happening now is there is this belief among people is 'oh, I made it out, we're coming out of the pandemic so if I didn't get vaccinated, I can pretty much be okay' and we want to encourage people not to think that way because we're not out of the pandemic. . .and we don't know if there will be another wave. We're still dealing with Omicron and we're still dealing with other strains so it's important not to think 'I can get out of this so I don't need it,' so please if you can get vaccinated, go ahead and do so.
"It is important for us, not for your own personal health, but also for the country because what it enables us to do is to be able to effectively and efficiently open up fully sooner."
Yesterday, the press secretary also defended the government's decision not to fully re-open the economy despite low COVID numbers. Over 6,000 COVID cases remain active in the country, though the daily case count continues to remain low.
He said: "Many people are asking, 'well the numbers are low and we seem to be out of the fourth wave, why aren't we opening up' and the reality is there is still too much at risk and people are wondering what do we mean 'at risk'.
"The numbers may be low, but our healthcare sector is still very vulnerable and that's one of the reasons why there has not been an overwhelming thrust to relax restrictions."
On Wednesday, Health and Wellness Minister Dr Michael Darville told reporters his ministry was looking at loosening the nation's border restrictions. His comments came a day after he suggested that no further relaxation of restrictive measures was imminent.