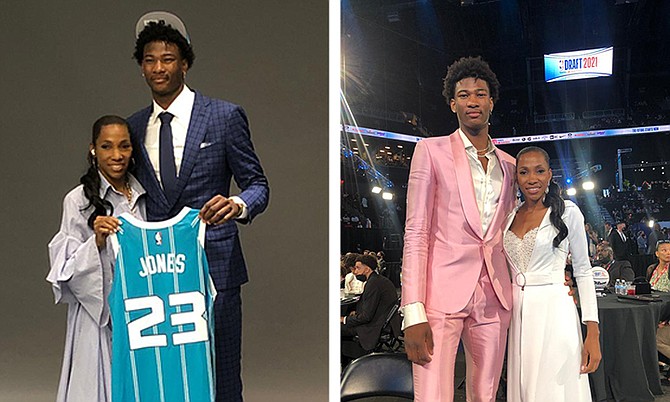 By JEFFARAH GIBSON
Tribune Features Writer
jgibson@tribunemedia.net
On Thursday July 29, 2021 in New York City, Kasprintina Ellis experienced the moment where all her work as a dedicated and devoted mother finally paid off.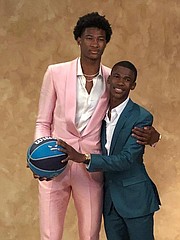 After all the sacrifices – the countless hours spent driving from one city to the next for practice, fitting in study time while waiting in parking lots, giving motivational talks, not to mention all the money spent on training and basketball shoes that wore out every two months – her son, Kai Jones, had finally hit the big time. He became the third Bahamian in the last five years to be drafted into the US' National Basketball Association (NBA).
For this momentous occasion, Kasprintina wore an elegant white ensemble that complemented her son's soft pink suit that he paired with straw shoes. The pink was a nod to flamingoes – the national bird of the Bahamas. Kasprintina stood by Kai's side for a photograph after he was selected as the 19th pick for the Charlotte Hornets. This photo, she said, represented "victory" and the manifestation of the dream Kai had worked so hard for, and one as a single mother raising two sons with athletic aspirations, she had pledged allegiance to.

Kasprintina basked in the glory of draft day, remembering the tough times – the times she sacrificed personal pursuits, and the years of consistent commitment. She gave glory to God and was finally able to pat herself on the back for a job very well done.
Single motherhood is a reality for many Bahamian women. It's a journey so common, it's barely even discussed as a problem anymore. Instead of being seen as a societal issue to be addressed and solved, it is often viewed with the attitude of "it is what it is". Nonetheless, many women struggle with and succeed on this hard road. In Kasprintina's case, divorce led to her experiencing the lows, but ultimately the triumph of single motherhood, as she raised her two sons, Kai and Kaden.
Divorce
"Having to deal with going through a divorce and still be a present parent was the most difficult part of the journey," she told Tribune Woman. "It was hard. Then it got more difficult at times when things became more financially challenging. What kept me going was my faith, my foundation was what fuelled me, that was what strengthened me.
"As hard, difficult and as dark things got, it was God who had plan and purposed things in my life that equipped me for the journey ahead. He was the source of everything. I take no credit for my strength. God makes us strong in our weakest times and I definitely could not have survived without Him."
Following her divorce, Kasprintina struggled to put the pieces of her life back together, but she knew she had to so quickly for the sake of her children. She understood that her sons' well-being and future would be determined by how stable she was as a mother.

"We are a little trio," she said. "I call us a little trio because we provided each other with strength. God always knows what you need, because He put something in those boys that acted as a motivation and encouragement for me on the lowest days. They always had something quirky to say," she said.
"I understood I had a job to do. It was not just about me. It was about these two little people that God saw fit to trust me with. I had to get it together. I did not have time for a pity party. I did not have to time to say 'woe is me'."
Taking a risk
In pursuit of her educational aspirations, Kasprintina packed her bags and moved her children to the US.

"One of the most difficult periods I would say was in 2016 when we returned to the Bahamas. In 2012, I left Nassau with Kai and Kaden…I went on a faith move…to complete my degree," she said.
During this time, she enrolled her sons in school in the US. Kai at this point had shown considerable interest in and talent for playing basketball.

"One summer I enrolled him in basketball camp in Florida. He really developed a different love and passion for basketball. Then a coach said to me, 'This boy can do great things in basketball. He just needs to keep working at it.' Then in his first year of high school he tried out for the basketball team and did not make the team. Then he tried out for the second year, and he made the team. He played for the high school team and it became like an addiction, he wanted to become better," she said.
With both sons be overachievers and aspiring athletes, parenting them took a lot of Kasprintina's time, energy and fortitude.

"When Kai sets is his mind to something he does not stop. He is just so confident that it is going to happen, and that required him to put in a lot of work. One year we moved out of where we were living to another area that would have taken us out of the school district that he was in. It was to save money and Kai insisted on remaining in that school. I said, 'Kai, I would have to drive like 35 minutes on the highway – this is just highway distance to take him to school. He had finally made the basketball team and there was no way he was doing it all over again. He insisted on remaining at that school. So it meant driving from one city to the next, back and forth to pick him up in the afternoons. Then Kai decided he wanted to be on a travel team and there was an expense in that. You had to pay to travel to the games. Then there were basketball shoes that wore out every two months and paying for training and coaches."
Facilitating Kai's ultimate dream of NBA stardom meant giving up on the one day she had to sleep in.
"Kai had practice on (Saturday) mornings. I had to sit in the parking lot and wait on him because of the distance. And during the time Kai was developing in basketball I was also a full-time student taking four to five courses, juggling work, a small business and two kids, so the extra picking up and dropping off was a lot. Kaden had to adjust to his brother's schedule as well," she said.
"But I had to do it. He was so determined to make those goals that I did not have a choice but to fall in line. I could not tell him he was going to be great and not help him apply his greatness."
Dark days
The family had settled into life in the US when Kasprintina experienced troubles with her visa that resulted in their "little trio" having to move back to the Bahamas.
"Due to some challenges with my visa renewal, my reinstatement, I left Florida to come home for 10 days. On our way back we were denied entry into the US. I had to wait and was told to re-apply for my student visa. We were denied. That left me in a situation where I had to start my life over. Everything that I had was in the US. We were uprooted," she said.
They found themselves back in the Bahamas, but with no place to live, no money, no job and no a direction in sight. Initially, they stayed with Kasprintina's mother.
"Life started from scratch. It was horrible. It was as if I was sinking. It felt every time I progressed, I was going back ten steps," she said.
Light at the end of the tunnel
After working to her life back on track, and with the support of family members, Kasprintina began to see God's plan at play.

"There was an NBA Without Borders camp taking place in Nassau and we had signed Kai up for it. He had got so much attention from this camp and had great opportunities. Then it became clear why God had brought us back home," she said.
Kai then moved back to the US following a summer of career milestones in 2017, including his junior national team debut and an invitation to the NBA Basketball Without Borders Americas Camp, hosted in the Bahamas.
A 4.0 student in the classroom, he spent a single season at Orlando Christian Prep in Orlando, Florida. He transferred to Brewster Academy in Lake Winnipesaukee, New Hampshire, and was invited to the NBA's Global Camp in Treviso, Italy, where he made an impression on some of the most notable names in the industry. He then headed to Texas as a consensus four-star recruit.
Then moment they had all shed blood, sweat and tears for finally came. Kai shared draft day with a contingent of 60 family and friends from the Bahamas who travelled to share in the occasion.

"It was a defining moment…when your life takes a completely different turn. You are seeing this great big manifestation of what you hoped for, worked for and believed in; God did it," she said.
"Sitting in the room was a big deal because they did not have the draft open up to all of the draftees due to the pandemic. They only had a select few individuals in what they called the green room. So to receive the invitation that Kai would be in the green room and experience a full draft was just nothing short of amazing. It was (proof) that the tough journey was worth it," she said.
While Kai continues to perform well in the NBA's G-League, Kaden is making his forging his own path in track and field. He is an 800m and 1500m runner. Recently, he beat his personal best in the 800m and is in the top 10 in the state of Ohio. He is also pursuing theatre and drama studies and qualified for state finals in speech and debate.