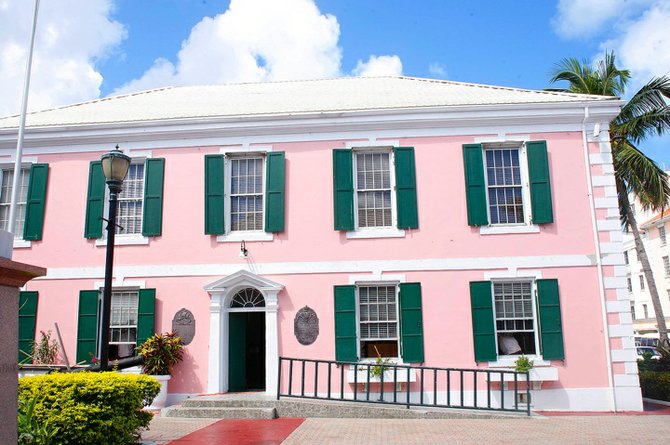 By EARYEL BOWLEG
Tribune Staff Reporter
ebowleg@tribunemedia.net
FORMER House of Assembly Speaker and government minister Vernon J Symonette, CMG, has died.
Mr Symonette was the former Member of Parliament for Mayaguana, Inagua, Crooked Island, Acklins and Long Cay. He was a former minister of state in the Ministry of Public Works with responsibility for Family Islands affairs.
 He was also formerly appointed non-resident ambassador to Costa Rica, Guatemala, Honduras, Nicaragua and Panama.
 In a press statement yesterday, Official Opposition leader Michael Pintard expressed his condolences on the passing of a "statesman" noting his commitment to peace will be missed in this "political atmosphere where venom is spewed too often".
 Mr Pintard said: "Symonette hailed from Inagua, where he served as an executive at Morton Salt before successfully contesting the Inagua seat in the 1982 general elections. When the two Parliamentary seats were combined in the southern Bahamas to create MICAL, the new seat was secured for the FNM by Vernon Symonette.
 "As Speaker of the House of Assembly from 1992 to 1997, Symonette carried out his duties in an atmosphere of good will, while maintaining an orderly and courteous character: he indeed was a statesman. As a diplomat he served the nation as a non-resident ambassador to Costa Rica, Guatemala, Honduras, Nicaragua, and Panama."
 The statement added: "He was beloved nationally by persons of all political stripes. He was seen as fair and balanced in his commentary and although affable, he was regarded as competent, serious, and attentive to the needs of those that he served. His many years in New Providence did not rob him of an intimate knowledge of his upbringing and the needs of Bahamians in the Family Islands. He dedicated his life to the improvement of these islands and our people."
 Mr Pintard also noted the role Mr Symonette played in the Free National Movement (FNM).
 "In the Free National Movement, he served and continued to serve even in the recent years by encouraging, sharing and giving advice to many of us who now hold national party office. Symonette was awarded the award of Meritorious Council Member, the highest level of award that can be conferred in the FNM. His unselfish contributions spanning decades, his voice of reason, his commitment to community and people are only some of the reasons we know MCM Symonette was a faithful FNM."
 It was noted that Mr Symonette was an avid sailor and skilled carpenter. He was described as a man who "loved people and most often had that signature smile on his face."
"His legacy of engagement and interactive disposition was appreciated and will be missed," according to the statement.
"On behalf of my family, including myself as well as the Official Opposition Free National Movement, we offer our condolences to his wife, Phyllis, and their children, grandchildren, his extended family, friends from MICAL, throughout The Bahamas, and indeed the world."