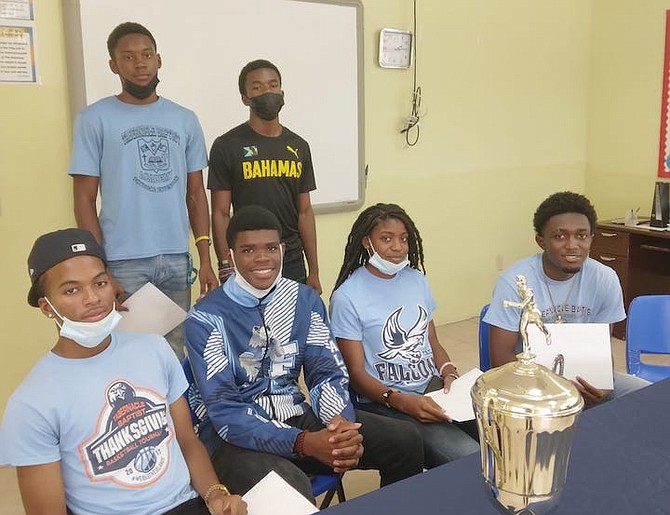 By DENISE MAYCOCK
Tribune Freeport Reporter
dmaycock@tribunemedia.net
SIX Grand Bahama athletes have received track and field scholarships to attend colleges and universities in the United States.
The recipients – Lynden Johnson, Thomas Grant, Isaiah Bain, Deangelo McKie, Stephanique Dean, and Zion Campbell – were presented their scholarship award letters yesterday from their school principal at the Tabernacle Baptist Christian Academy.
Principal Ashell Bain congratulated the students for their outstanding performance as athletes on the school's Falcons track club, which has won the Track and Field Championships in Grand Bahama.
"We have won nine championships in a row; our track & field team has been doing an awesome job under the direction of Coach Mr Nickito Johnson," she said.
"We are here to celebrate with the six athletes who have been awarded a scholarship to attend various universities and institutions. Some are full-ride and partial scholarships, and we are so grateful for that."
Coach Johnson said Tabernacle Baptist Christian Academy is not only known as a sports school but also promotes academics and assists its athletes in getting scholarships abroad. "We are pleased to highlight these magnificent young students. Over the years since 2016, we have sent an average of four to five kids off to school for track every single year," he stated.
Lynden Johnson will be attending Munroe College in New York.
He is excited about the opportunity to compete and study at the college level. "This scholarship is a blessing. The long nights of prayers and hard work practicing have really paid off," said Johnson, who specializes in the 100 and 200 metres and the long jump.
"My expectations of going off to college is simply to better myself as a young man and remember why I started (journey) and to keep pushing."
Thomas Grant, a 100m and 200m sprinter, accepted a scholarship to Colby Community College in Kansas.
He said: "I put my trust in God in getting a scholarship and I look forward to getting better, not only athletically, but academically and bringing my talents back home."
Sprinter Isaiah Bain received a full-ride scholarship to Talladega University, in Alabama. He is grateful for the opportunity to attend college and compete in track.
"I really feel blessed to be provided with such an opportunity because a full-ride scholarship does not come often and so I am very blessed and thank God for it," he added.
Attending Iowa Western Community College, in Bluff, Iowa, are Deangelo McKie and Zion Campbell. Both are 100m and 200m sprinters. "I feel blessed, said McKie, and I thank God for giving me this opportunity, and my (mother) for (supporting me). He said his goal is to improve his times in both the 100 and 200m sprint races. Campbell also hopes to lower his times in both races and return home with a college degree.
Stephanique Dean will attend Southwest Baptist University, in Bolivar, Missouri. She is looking forward to the opportunity to compete and hopes to obtain a nursing degree.
Miss Dean, who also specializes in the 100 and 200 metres, said: "I feel very excited and blessed to receive the scholarship. I expect to improve and get better and to return to the Bahamas with a nursing degree."
Tabernacle Baptist Christian Academy opened in 1985. The institution is known for its sports programme, particularly in basketball, track and field and academics.