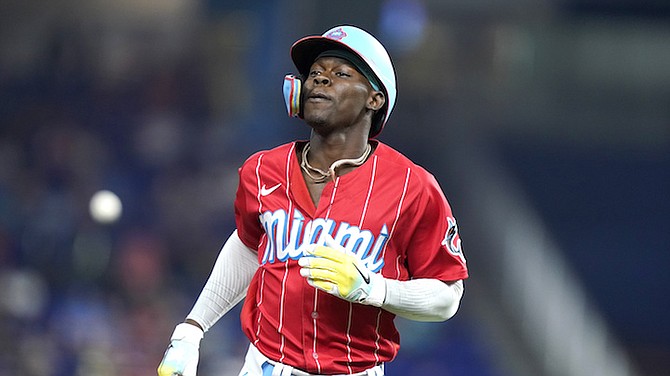 By RENALDO DORSETT
Tribune Sports Reporter
rdorsett@tribunemedia.net
DESPITE his best efforts to rehab a lower back strain, Jasrado "Jazz" Chisholm Jr was officially ruled out of the 2022 Major League Baseball All-Star Game.
Marlins' manager Don Mattingly told reporters Friday that the team's medical staff has yet to clear the All-Star second baseman for a return to the field.
"Anybody that's in the [injured list] is in medical's hands until they're not," Mattingly said. "I'm sure he's disappointed he can't play. He's earned that right to play.''
While he won't play, Chisholm still plans to head to Los Angeles to take part in all the other off-field events and activities surrounding the All-Star Game.
Chisholm has been on the injured list since June 29 and has reportedly been undergoing the rehab process at the Roger Dean Chevrolet Stadium complex in Jupiter, Florida.
No definitive timetable has been set for his return.
"For the most part, he is doing okay. The swinging has been okay. The groundballs, throwing and all that stuff's been good. A little problem with the running. I think that's been the biggest issue. How are we going to move forward with the running because the running has given him issues," Mattingly said.
"Really just something that they'll keep working on medically and make sure the strength's there. There are a lot of boxes for him to cross off to be able to get back to this level. For now, he's in medical's hands. Once they say he's clear to be able to start playing some games, we can move forward."
Chisholm will be replaced on the National League roster by the San Diego Padres' Jake Cronenworth and New York Mets second baseman Jeff McNeil will be moved into the starting lineup.
The 92nd MLB All-Star Game is scheduled for Tuesday night at Dodger Stadium in Los Angeles, California.
Although he will not appear in the game, Chisholm will reportedly be in Los Angeles to partake in other All-Star game festivities.
Chisholm is one of several expected starters that will miss the All-Star game due to injury.
Houston Astros' second baseman Jose Altuve, San Francisco Giants pitcher Carlos Rodon, and St Louis Cardinals' third baseman Nolan Arenado have all been ruled out.
Chisholm is the first-ever Bahamian-born All-Star of the nine countrymen to ever play in the MLB.
From the Marlins' perspective, he joins Hanley Ramírez, Dee Strange-Gordon, Marcell Ozuna, Gary Sheffield, and Giancarlo Stanton as the only Marlins to be fan-elected starters.
Chisholm's last appearance on the field in a Marlins uniform was June 28. He originally suffered the back early in the season on a slide and eventually re-aggravated the injury in late June, which forced him out of the lineup.
He returned to the field the following game and doubled on "Bahamian Heritage Night" but was again sidelined the following day in the series finale against the New York Mets.
Through 60 games he has a .254 average 14 home runs, 54 hits, 45 RBI, 12 stolen bases, and scored 39 runs.
"I feel like I can go a lot further than I am now. I always say I can be a 40/40 [home run/stolen bases] guy if I really focus the whole year.
"No distractions. No anything. Just go out there and play baseball," Chisholm said.
"That was always my goal. So, I'm going to keep that as my goal and my ceiling."