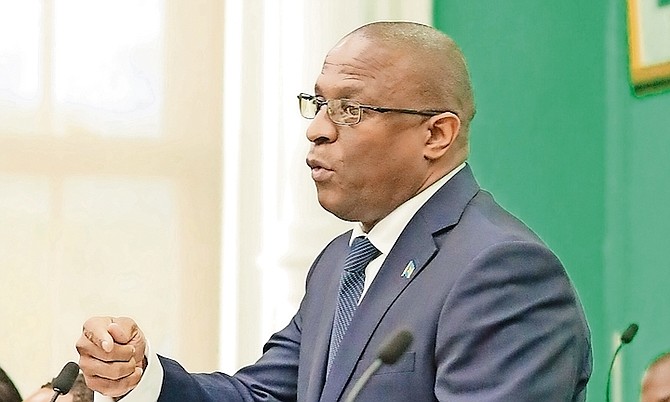 By EARYEL BOWLEG
Tribune Staff Reporter
ebowleg@tribunemedia.net
THE official opposition wants to see a full report detailing money spent on furniture and decor at an ambassador's residence in Belgium.
Last week, Labour and Immigration Minister Keith Bell revealed in Parliament that more than $1m in total had been spent.
This included monthly accommodations in a Brussels hotel for ambassador Maria O'Brien at a cost of $20,000 per month, while the furniture and decor cost the government $550,000.
Mr Pintard told The Tribune he found it "most unfortunate" the way that it was presented in the House.
Mr Bell had tabled what appeared to be an itemised list with costs. However, Mr Pintard has noted the document was of poor quality.
 "Certainly we've asked in the House of Assembly that the allegations made by Minister Keith Bell that it is very important to the opposition for the government to lay the report on that spending," Mr Pintard said. "Mr Henfield who made a comment he was unaware of it.
"What we do know is that an ambassador is unable to basically approve those spendings. So, I just found it most unfortunate the way that it was presented in the House, but we would like to get a full report on it to know those figures are in fact accurate because they are exceptionally high, but we just want to get the full scope of it before we make any detailed statements."
 The Marco City MP has previously said ambassadors are unable to approve funding and questioned who approved the spending.
 Meanwhile, former Foreign Affairs Minister Darren Henfield had said the level of spending was "indefensible."
 For his part, former Prime Minister Dr Hubert Minnis last week said Mr Bell had been "totally disingenuous" in making the accusations. He added that Brussels was an expensive place and the ambassador would not have acted outside of established protocols by the Ministry of Foreign Affairs.
 He said ambassadors did not have access to money. He also said ambassadors live in hotels until proper permanent accommodations are found. These hotels, he said, must have a certain standard of security among other things.
 Mr Pintard also noted another point of interest is looking at the embassies not just in Europe or in the UK, but also in the United States.
 "What has been the going rate? Are there instances where persons have been provided with $20,000 or $22,000 a month in terms of accommodation? We want to see the figures for those persons right now oversees. Those persons during our period, fine, as well as the period before," he said.
 "We're hearing that over the course of the last 10 years there have been some exceptionally high figures that most of us are unfamiliar with, including up to today and so we want the government to be very transparent in making the information available for the period leading up to 2017, 2021 and the period we are now. We would like to see what those expenses are. What it would do is give us a rounded picture but we are concerned about what this matter has now brought to light because again persons are sending information of incredibly high billings right up to today in embassies."