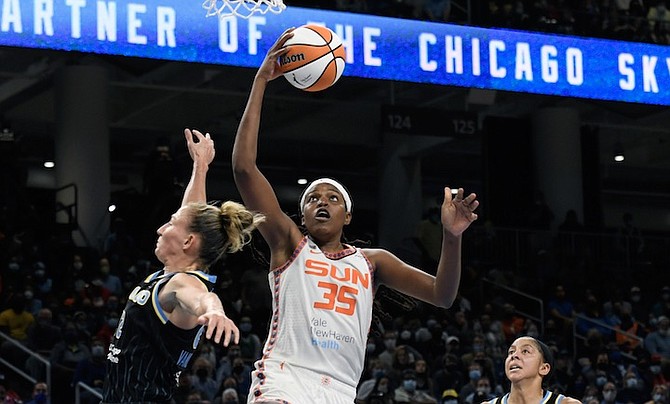 By RENALDO DORSETT
Tribune Sports Reporter
rdorsett@tribunemedia.net
REIGNING WNBA MVP Jonquel Jones claims that her sexuality continues to hinder her marketability - citing a specific local case with one of the country's leading telecommunications providers.
In a feature with ESPN's Katie Barnes, Jones said she believed her relationship with The Bahamas Telecommunications Co ended due to her openly identifying as a lesbian and her self described "non-traditionally feminine" style of dress.
"Jones believes her decision to embrace her identity as a lesbian and dress more authentically came with material consequences. The Bahamas Telecommunications Co., she says, opted not to renew her contract even though her basketball performance in the United States and overseas had improved," Barnes wrote. "The only difference is that I'm openly out and dressing differently,' Jones says."
Following the publication of the article, BTC issued a statement refuting those claims.
"BTC has a strong culture supporting equality, diversity, and inclusion. As a company we do not discriminate against the LGBTQIA+ community in any form or manner," the statement said.
"BTC currently has an endorsement contract with Olympian Steven Gardiner. All endorsement contracts are executed for a specific period of time."
Jones signed as a BTC brand ambassador in 2017.
Since then, the 28-year-old Connecticut Sun forward has gone on to win a myriad of WNBA accolades, including Most Improved Player of the Year, Sixth Woman of the Year, two-time All-WNBA second team selection, an All-WNBA first team selection, a four time All-Star and the league MVP.
Jones is currently one of the principals in a State Farm ad campaign which also includes NBA players - Trae Young of the Atlanta Hawks and Boban Marjanovic of the Houston Rockets.
Jones has been vocal in the past about being overlooked as a marketable personality, despite her production on the floor.
In a series of tweets posted earlier this year, she lashed out against the system of women's basketball and the hurdles she and others are forced to clear. "It's all a popularity contest and politics in wbb. In mbb you just gottah be the best. In wbb you gottah be the best player, best looking, most marketable, most IG followers, just to sit at the endorsement table. Thank God for overseas because my bag would've been fumbled. Not to mention me being a black lesbian woman," she added. "Lord the seats disappearing from the table as I speak."
Jones was announced as an All-Star game selection for the fourth time last night.
She is currently leading the Sun with 15.1 points per game and ranks third in the league with 9.4 rebounds per game.
She went on to post her third consecutive double double with 12 points and 11 rebounds in last night's 81-77 loss to the New York Liberty at the Mohegan Sun Arena in Uncasville, Connecticut.
Outside of the United States, Jones stars for the Bosnia and Herzegovina national team and with the UMMC Ekaterinburg Foxes of the Russian Premier League.
Last offseason, Jones signed a two-year deal with the Sun worth $205,000 in 2021, slightly under the WNBA supermax. However, her monthly salary with the Foxes is reportedly comparable to her yearly salary in the WNBA
Jones told Clutchpoints about the differences in the WNBA and international play. She stated:
"I think overseas in general, the crowd, has a bigger appreciation for women's basketball. I think it is way better than it is in the WNBA. You can go from a game where the gym is full to some games where there are a few people in the stands. I do not think they fully appreciate women's basketball and the level it is played at," Jones said.
"When I come overseas I definitely always appreciate that and appreciate people loving us and watching us, and understanding that we put a lot of time in our game. I think that is the biggest difference. WNBA, talent wise, is up there, there is a lot of talent every night and every team can win. Overall, the atmosphere overseas is second to none."
Off the court, Jones noted that she continues to search for a balance between her sexuality and her spirituality. "It's just always been this conflict between me being myself but also being a follower of Christ…I just made this drastic change. And I basically went through college fighting that and feeling like I had to put that side of myself kind of on the back burner," she said. "It's still an ongoing thing. But I ultimately know who I am. I just have to take the time to really find God for myself and not what other people tell me who God is. When I do that, then it'll be different."