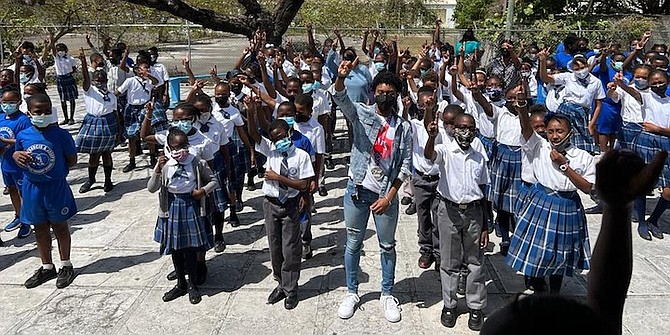 By BRENT STUBBS
Senior Sports Reporter
bstubbs@tribunemedia.net
As part of the celebrations for her first global track and field meet, women's national record holder Devynne Charlton shared her IAAF World Indoor Championships 60 metres hurdles silver medal with her alma maters at St Francis/Joseph and St Augustine's College.
Charlton, 26, returned home with women's 400m gold medallist Shaunae Miller-Uibo last week to a hero's welcome as they were celebrated for their medal performances at the championships in Belgrade, Serbia.
On Friday at SAC, Charlton got emotional as she spoke to the students. In attendance were principal Marici Thompson and past president Sonja Knowles, who both expressed their delight in her achievement.
"I thought it was important for me to come back and speak to you guys because of the opportunities that SAC has given me," she said. "It's really a world-class education and world-class athletics and I think both of those things set me up for where I am in life right now."
Charlton, who graduated from St Francis/Joseph in 2007 and SAC in 2014, went on to graduate from Purdue University, is a graduate assistant at the University of Kentucky where she trains under the supervision of head coach Rolando "Lonnie" Greene.
Accompanied by her mother Laura, a graduate of SAC, Charlton said she felt proud to have been able to visit both of her alma maters to show her former teachers and administrators the woman she has become. Her father, Dave, accompanied her at St Francis/Joseph. "Many of the teachers and administrators that are still there had a huge impact on my life and I just wanted to thank them for being who they are," she said.
Thompson said they were elated to have Charlton return home. But she added that because of the inclement weather, they were prevented from celebrating the way they had planned to. "Devynne was an outstanding student athlete while here at SAC and also as an undergraduate student at Purdue University," Thompson said. "She had an amazing collegiate career, and in her first Olympics in 2021 she placed 6th in the 100m hurdles.
"She continues to soar, having recently won the silver medal in the 60m hurdles at the World Athletics Indoor Championships in Belgrade.
"We are so proud of Devynne's accomplishments thus far and we are excited about her future."
Charlton, who also has two other sisters who graduated from SAC, is now preparing for the outdoor season. She's expected to make her debut in a University of Kentucky home meet on April 22 when she is expected to compete in the 100m hurdles.
Coming off a sixth-place finish at the delayed 2020 Olympic Games in Tokyo, Japan last August, Charlton is hoping to carry over her success to the World Outdoor Championships in Eugene, Oregon, in July with another medal performance.